News
Published 6 June 2018
Falling Walls Lab: One minute with Mehdi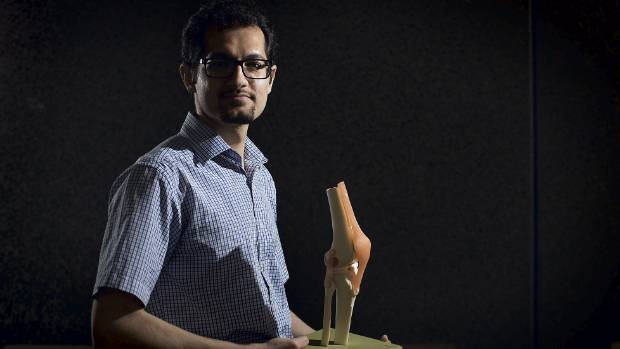 2017 Falling Walls Lab participant Mehdi Saeidi shares some valuable insight from his experience at Falling Walls Lab Australia.
Mehdi is a mechanical engineer by trade, with a background in materials science. He is just over two years into his bio-medical engineering PhD at Auckland University of Technology.
Mehdi travelled to Australia last year as a New Zealand representative and presented his innovation in breaking the walls of knee replacements. His presentation ranked in the top three overall at Falling Walls Lab Australia 2017.
What made you want to present at Falling Walls?
The idea of the Falling Walls itself was probably my main motivation. I am sure every day so many walls are falling down around the globe, but we probably never hear about most of them. Falling Walls was an opportunity to share a capsulated and simplified version of all of my hard work, my passion and some really amazing things with so many people.
What was your experience at Falling Walls Australia Lab like?
It is hard to put it into words, you have to feel it yourself. It was a nerve racking, exciting and a once in a lifetime experience just to be part of that event and listen to brilliant people from different backgrounds and be amazed by what is going on not far from where you live and you have no idea about.
Did participating in Falling Walls have a lasting impact on your working life?
Yes, it did have an impact. It has helped me to stand out from the crowd and boosted my confidence and determination significantly to work even harder, as now I know my research means and matters to so many people. In fact, the feedback alone that I got after my presentation is probably the best thing that could have happened during my PhD.
What would your advice be to this year's Falling Walls applicants?
First of all, I am thrilled that for the very first time someone is going to represent New Zealand and the Pacific Islands in the final round in Berlin. Falling Walls is not about winning or losing, so if you are applying for this year's Lab, just try to enjoy and learn from this great journey. Do your best and practice as much as you can. I cannot wait to watch our representative's presentation in Berlin.
---
You can read more about Mehdi's research or watch his presentation at Falling Walls Lab Australia in the video below.
Royal Society Te Apārangi is still seeking Applications for Falling Walls Lab 2018 until 22 June 2018.
Source: Royal Society Te Apārangi
The feedback alone that I got after my presentation is probably the best thing that could have happened during my PhD