News
Published 8 September 2023
Neonatologist Dame Jane Harding to be next President of Royal Society Te Apārangi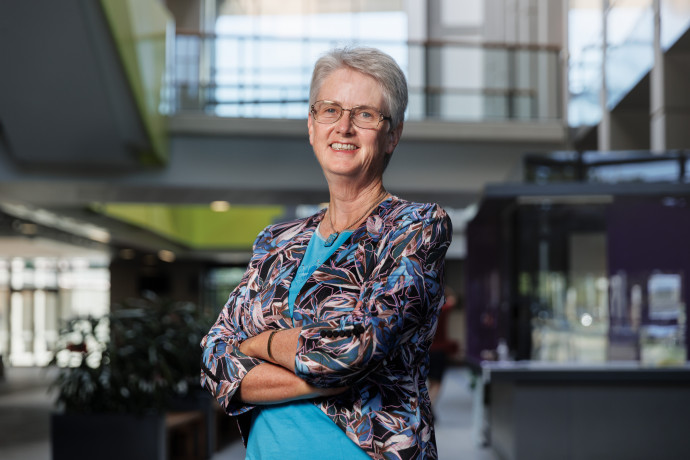 Royal Society Te Apārangi is delighted to announce Distinguished Professor Dame Jane Harding FRSNZ as the next President of Royal Society Te Apārangi.

Dame Jane joins the Society's Council as President-Elect immediately, and will succeed the current President, Dr Brent Clothier FRSNZ, from 1 July 2024 (at the end of his 3-year term).
Distinguished Professor Dame Jane Harding (DNZM, BSc, MBChB, DPhil, FRACP, FRSNZ) is an academic neonatologist with more than 35 years of experience in research, teaching, and practice in clinical medicine. Her work on growth and development around the time of birth has led to new understanding and therapies that have changed the standard of care and improved outcomes for mothers and babies around the world.
Dame Jane is held in the highest regard internationally, both as a scholar in the field of perinatal research, and for her collegiality. Her research, scholarship, and contributions to the field have been recognised by a number of national and international bodies and awards. In New Zealand, these have included the Rutherford Medal, the Prime Minister's Science Prize—Te Puiaki Pūtaiao Matua—and Supreme Winner at the 'Women of Influence' Awards. Further afield, she has received awards from the American Pediatric Society, the US Perinatal Research Society, the European Society for Paediatric Research, the International Fetal Medicine and Surgery Society, and the British Association of Perinatal Medicine.
In addition to her clinical research achievements, Dame Jane has held a number of strategic leadership roles.
Overcoming considerable resistance, she led the merger of the Australian and New Zealand Perinatal Societies into a single organisation, which she is proud to say is still going strong 25 years later.
As the New Zealand Secretary for the Rhodes Scholarships, over the last 10 years she has completely revised the selection process and established advisors in each of New Zealand's universities to support potential candidates and facilitate outreach. This has resulted in an increasingly diverse applicant pool and a much larger community engaged with the scholarships both locally and internationally.
Dame Jane says she enjoys working with people of different perspectives and backgrounds.
"My research is multidisciplinary and collaborative, often involving large teams of people from many different backgrounds working together over many years. This requires commitment to making it work, respect for others' strengths, and developing mutually acceptable ways of working and keeping a focus on the goal, despite distractions and frustrations.
"I look forward to applying these approaches in my new role within Royal Society Te Apārangi."
Dame Jane says her core mission aligns very closely with that of the Society.
"My entire career has been dedicated to the pursuit and sharing of knowledge, to supporting a diverse research ecosystem, and to the recognition of excellent research. I am deeply committed to ensuring that Royal Society Te Apārangi continues to deliver on that core mission, as a fundamental underpinning of civil society."
More about Distinguished Professor Dame Jane Harding
After Dr Harding's medical degree, at The University of Auckland, she won a Rhodes Scholarship to complete her DPhil in fetal physiology at the University of Oxford, in the United Kingdom. She returned to Aotearoa New Zealand to specialise as a Paediatrician. She completed a Postdoctoral Fellowship in the United States of America, is an Honorary Member of the American Pediatric Society, and has been funded by the United States National Institutes of Health (which is rare for international researchers).
Appointed as Professor of Neonatology at the University of Auckland in 1997, she became a Distinguished Professor in 2011. Professor Harding was a Co-Founder and Deputy Director of the university's Liggins Institute and was Deputy Vice-Chancellor, Research, from 2008 to 2015. She has been President of the New Zealand Perinatal Society and the Perinatal Society of Australia and New Zealand, and is a Life Member of the Paediatric Society of New Zealand. She has served in a number of roles for the Health Research Council of New Zealand and the Royal Australasian College of Physicians, and as a member of the Research Committee of Universities New Zealand. Professor Harding has chaired the Steering Group of the Worldwide Universities' Public Health Global Challenge. Her strategic roles have included contributions to governance of New Zealand's National Centres of Research Excellence and National Science Challenges, and she has recently been appointed to the Independent Strategic Panel for Te Ara Paerangi–Future Pathways, which will recommend National Research Priorities for Aotearoa New Zealand.
Dr Harding was elected as a Fellow of the Royal Society in 2001. In 2002, she was appointed an Officer of the New Zealand Order of Merit, and in 2020, became Dame Companion of the New Zealand Order of Merit, for services to neonatology and perinatology.
Source: Royal Society Te Apārangi