News
Published 21 November 2018
Kathleen Curtis Atrium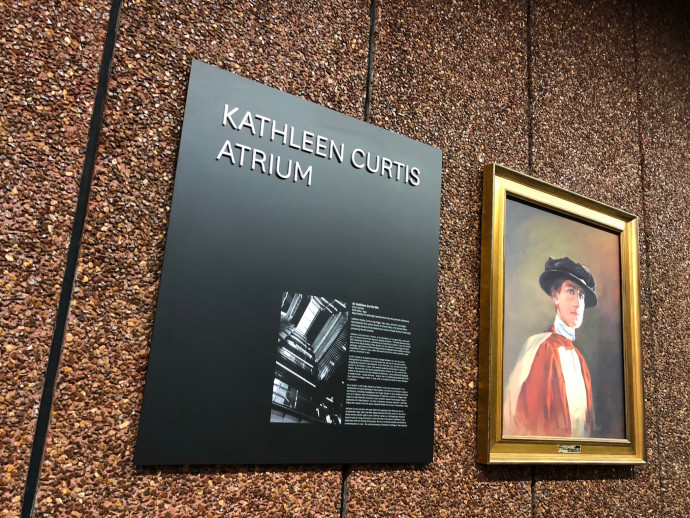 Our first female Fellow, mycologist and founder of plant pathology in New Zealand, Kathleen Curtis, has had the atrium of the Science Centre at the University of Auckland named in her honour as part of a programme to celebrate 125 years of women's suffrage in New Zealand.

This week a special celebration was held at the Science Centre at the University of Auckland where Minister Hon Dr Megan Woods officially named the 'Kathleen Curtis Atrium'. Organised by Kate Hannah from Te Pūnaha Matatini, Kate is working to elevate the recognition of the impact of women in science at the university. Other speakers included Dr Leilani Walker and Distinguished Professor Margaret Brimble FRS FRSNZ, who gifted a portrait of Kathleen Curtis on behalf of Royal Society Te Apārangi President Professor Wendy Larner FRSNZ. Professor Brimble also shared some details of Kathleen Curtis's life and achievements: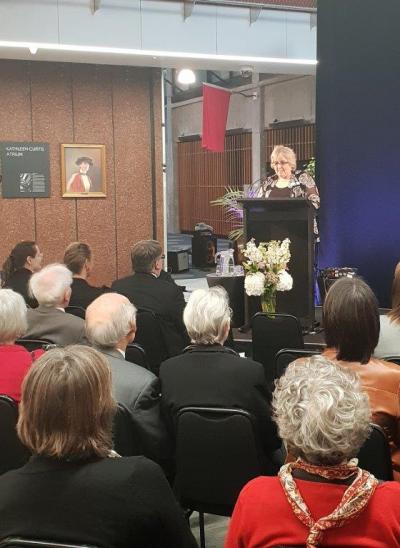 "Ngā mihi e te wahine toa a Kate, thank you for your kind introduction Kate.
Honorable Dr Megan Woods, John Hosking Dean of Science and our distinguished manuhiri guests tēnā tātou katoa - on behalf of the Royal Society Te Apārangi I am delighted to be able to share with you some of the highlights of one of New Zealand's truly remarkable female scientists, Kathleen Maisey Curtis.
Kathleen Maisey Curtis was born in Foxton, in the Manawatū, on the 15th of August 1892. Notably, this was at the height of the campaign for Women's Suffrage in New Zealand. Earlier that year, the Women's Franchise League was established in Dunedin, moving quickly to other centres, and by year's end a major suffrage petition (known as the 1892 Suffrage Petition) had been presented to Parliament, with over 17,000 signatories. Kathleen would go on to become one of New Zealand's leading scientists – first New Zealand woman with a doctorate, conferred by the University of London in 1919; first female Fellow of the Royal Society of New Zealand, for her research in mycology and plant pathology, 1936; and one of the first scientists employed at the Cawthron Institute, established in Nelson in 1921, where she would work for her entire scientific career, until her retirement in 1952.
Kathleen's father was a postmaster, and the family moved several times during her childhood – so she completed primary schooling in Lyttleton and then attended Auckland Girls' Grammar for secondary schooling, matriculating in 1911. She enrolled at Auckland University College in 1911, with courses in Latin, English, Pure Mathematics, Biology, and Music, and was the Top Scholar in Biology for that year. She graduated with her BA in Botany in 1913 and was a Senior Scholar in Botany (the only female senior scholar in 2013). She then enrolled in an MA under the supervision of foundational Professor of Biology, APW Thomas, after whom the Thomas Building at the University of Auckland is named. She was one of 13 masters students at Auckland University College in 1914, graduating with first class honours, and was awarded the Exhibition 1851 Science Scholarship for her masters work, the first woman to do so.
This scholarship enabled her travel to the United Kingdom to undertake her doctoral studies, which she completed in 1919 – with an exceptional thesis on wart diseases in potatoes.
Kathleen Curtis was instrumental in the establishment of plant pathology in Aotearoa New Zealand, and much of her work during the 1920s and 30s focused on horticulture, pasture, and forestry, with her investigations of fungal die-back in Pinus Radiata and black root-rot in tobacco leading to the development of methods to control or mitigate their impact on New Zealand's economy. Curtis' scientific research was deeply rooted in applications for New Zealand – but also in discovery and pure research; she located a puff-ball fungus in the mid-1920s, named Claustula fisheri curtis.
Only two named buildings the Thomas Building and the Kate Edger Commons commemorate the University's history – Kate Edger was the first woman university graduate in New Zealand. She was awarded her BA in Latin and Mathematics by the University of New Zealand in 1877. The Thomas Building commemorates the contributions of Curtis' Masters supervisor, APW Thomas, founding Professor of Biology at Auckland University College.
Curtis' studies at Auckland University College between 1911 and 1915 were distinguished by excellence at a time that she was one of very few women studying the sciences in New Zealand. With her subsequent career as a distinguished research scientist, and her long connection to the University of Auckland, it is fitting that the University of Auckland in 2018, the 125th anniversary of Women's Suffrage in New Zealand commemorate her immense contribution to New Zealand science in the naming of the 302 Plaza Atrium after her."
Kathleen Curtis was also the First Female to be elected a Fellow of the Royal Society Te Apārangi in 1936. The University had requested to loan the Society's portrait of Kathleen Curtis (Lady Rigg) to hang in the new atrium. Instead the Royal Society Te Apārangi have made a replica portrait as a koha to the University of Auckland, which I am now delighted to present to the University on behalf of Professor Wendy Larner, President of the Royal Society Te Apārangi to commemorate the naming of the Science Centre Atrium as part of the Faculty of Science and in celebration of Suffrage.
Nō reira, tēnā koutou, tēnā koutou, tēna tātou katoa."
Kathleen Curtis is the face of our 150 Women in 150 Words series of profiles that we launched during our 150th year to celebrate women's contributions to expanding knowledge in New Zealand and are continuing this year for 125 years of women's suffrage.
Source: Royal Society Te Apārangi