News
Published 28 September 2023
Pacific student gains a place at Berlin's Falling Walls Lab Finale for innovative breakthrough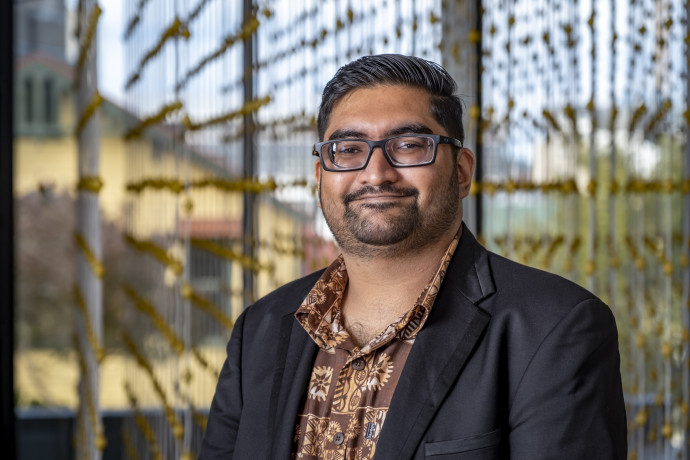 Tejesvi Patel
Tejesvi Patel, a Master's student at the University of the South Pacific in Fiji, will be joining Dr Debashree Roy from the Riddet Institute at Massey University at the Falling Walls Science Summit in Berlin in Germany.

On 5 September, 22 participants from around Aotearoa New Zealand and the Pacific pitched their ideas for innovative breakthroughs at the 2023 Falling Walls Lab Aotearoa New Zealand contest. The event was held at Royal Society Te Apārangi in Wellington, with support from the German Embassy in Wellington, the Catalyst: Leaders Fund from the Ministry of Business, Innovation and Employment, and EURAXESS Australia & New Zealand.
Each participant had 3 minutes to describe how their work could make a difference for society. Dr Debashree Roy won first place in the competition and was therefore selected to represent Aotearoa New Zealand. In early November, she will join one winner from each of the other participating countries to compete on the global stage.
This year, for the first time, the international Falling Walls Foundation has granted permission for the Royal Society Te Apārangi to nominate a second candidate to go to Berlin. Tejesvi Patel, from the University of the South Pacific in Fiji, placed second in the competition.
In his 3-minute pitch, Tejesvi explained how he is developing a biodegradable, biocompatible skin patch – that has the ability to treat microbial skin infections.
The patches are made by forming polyvinylpyrrolidone (PVP), a synthetic biodegradable polymer into a hydrogel by crosslinking with tannic acid and infused with nystatin (an antifungal agent). Tannic acid is a natural polyphenol found in plant material such as bark and tea leaves, which is antimicrobial and anti-inflammatory, and can stop bleeding, Tejesvi said.
He said that worldwide there is a substantial increase in the number of microbial infections, especially skin infections. This was due to "rising global temperatures".
"Microbial build-up on wound sites impedes the natural healing process; it slows down healing."
Rather than needing to reapply a topical ointment or take tablets to reduce microbial build-up and infection at wound sites, the patches Tejesvi is developing would both cover the skin lesion and administer an antimicrobial and antifungal treatment simultaneously and are site specific.
In addition, the biodegradable nature of the patch means people can protect themselves from infection and speed healing without creating more plastic waste.
He said the patch would be particularly useful for those with diabetes, as the patient will not have to take oral medication but use it directly on the skin lesion, which will help speed up the healing process.
Falling Walls Lab Aotearoa New Zealand is a regional 'heat' of the competition and is open to early-career researchers and students from Aotearoa New Zealand and the Pacific Island Forum Nations. Candidates were judged on the quality of their science, the potential impact, and how well they conveyed their ideas to the audience.
When announcing the winner at Falling Walls Lab Aotearoa New Zealand, Jury Chair Professor Phil Lester said the jury of experts had found it "very hard to differentiate" between 1st and 2nd places. His feedback to Tejesvi was that he had given "a really well-thought-out presentation on multiple layers". "It is relevant to the world we are living in, in which microbial infections are a growing problem and increasing around the world. It was also very well presented."
Dr Brent Clothier FRSNZ, Royal Society Te Apārangi President, said that the partnership with the German Embassy in New Zealand was focused on highlighting outstanding research and creating opportunities for talented innovators.
"We are delighted that Tejesvi will be the second representative from Falling Walls Lab Aotearoa New Zealand. At the finale, the participant's home country gets shown on the large screens, so he will be representing Aotearoa New Zealand, Fiji, and the entire Pacific region.
"We are extremely grateful to the New Zealand Ministry of Business, Innovation and Employment for agreeing to support Tejesvi to attend, with funding from the Catalyst: Leaders Fund."
Jury member Associate Professor Riz Firestone, who is a Senior Researcher at the Research Centre for Public Health at Massey University, said it was "amazing," that both Debashree and Tejesvi would get to go.
"As jury members, we are thrilled that Tejesvi can join Debashree in Berlin. His wound-healing patches are an incredible breakthrough and such an important innovation given the growing issue of antimicrobial resistance globally. Also, as Tejesvi explained, the growing number of people with diabetes who experience slower wound healing again makes this such a timely breakthrough. Tejesvi presented his research in a clear and inspirational way."
The German Embassy in New Zealand was also very pleased that Tejesvi would be attending, especially as Germany is celebrating 50 years of diplomatic relations with Fiji and opened a new embassy in Suva in August this year. The German Embassy Wellington is pleased that Falling Walls Lab is further encouraging the connections between Germany and Fiji, as well as Aotearoa and the wider Pacific.
On hearing that he was also going to be supported to attend the finale, Tejesvi expressed deep gratitude to those who had brought about the chance for him to attend.
"I cannot put into words how honoured I am to be given such an opportunity to present my research at such an international level."
Tejesvi and Debashree will leave for Finale and Falling Walls Conference summit in early November.
Debashree will be sharing her breakthrough on developing plant-based cheese that have nutritional and sensory properties like dairy cheeses. Third place in the competition was awarded to Dr Kristin Bohm from the Institute of Environmental Science and Research Ltd (ESR) who pitched her work on bioconversion of human waste.
Background information
More about Falling Walls Lab
Falling Walls Lab events are held in numerous countries worldwide. The winners of these Lab competitions are automatically admitted to the Falling Walls Science Summit in Germany in November each year where they will again pitch their idea to a jury of distinguished academics and businesspeople.
The Falling Walls Foundation is a non-profit organisation in Berlin, dedicated to the support of science and the humanities. It was established in 2009, 20 years after the fall of the Berlin Wall. At its heart is the question 'Which are the next walls to fall?' because of scientific, technological, economic, and sociological breakthroughs.
Visit https://www.falling-walls.com/lab
More about Falling Walls Lab Aotearoa New Zealand
The Falling Walls programme is funded by the Ministry of Business, Innovation and Employment (MBIE) through the Catalyst Fund which supports incoming and outgoing targeted international fellowships for exceptional individuals. Funding supports travel, accommodation and incidentals for the selected participants. Falling Walls Lab Aotearoa New Zealand is administered by Royal Society Te Apārangi on MBIE's behalf.


Source: Royal Society Te Apārangi