News
Published 23 October 2019
Tā Tipene O'Regan announced as Companion at 2019 Research Honours Aotearoa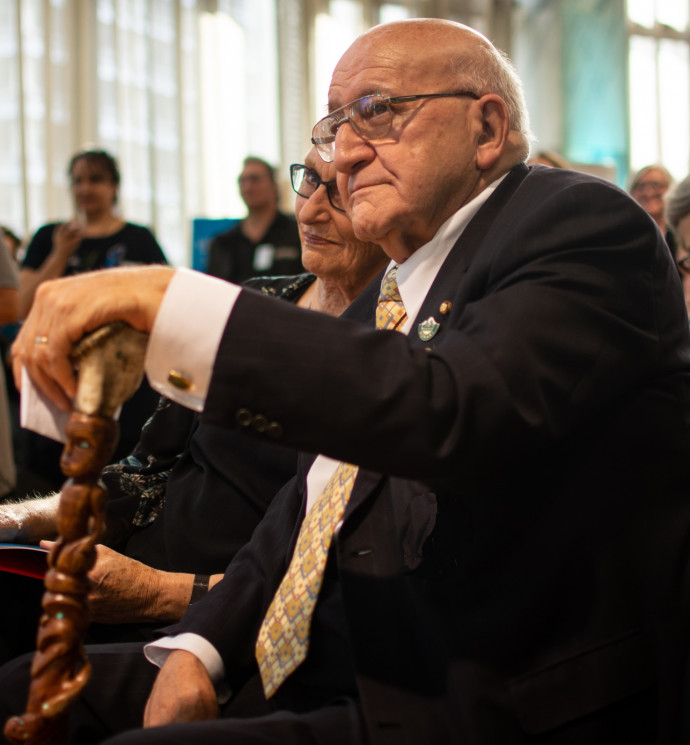 Tā Tipene O'Regan (Ngāi Tahu) has been made a Companion of Royal Society Te Apārangi in a special announcement by Society President Professor Wendy Larner at this year's Research Honours Aotearoa in Ōtepoti Dunedin, Te Waipounamu.
Recognised for his exceptional mana, outstanding leadership and eminent contributions to promoting and advancing science, technology or the humanities in New Zealand, Sir Tā Tipene O'Regan was elected as a Companion of Royal Society Te Apārangi at the 2019 Research Honours Aotearoa awards ceremony.
Unable to attend the occasion due to ill health, his daughter Dr Hana O'Regan received this honour on his behalf saying that this distinction was incredibly important to him, "for his love for what has been achieved, and what is being continued to be done in the name of research, the pursuit of knowledge by the Royal Society, and the researchers in every corner of this land".
In Tā Tipene's words read out by Hana, he says "It is my great joy that given it's foundations in the New Zealand Institute, the Royal Society's re-inclusion of Māori culture, research and scholarship in recent years, provides us with a wonderful example of wā kāinga syndrome, that of returning to its roots".
Tā Tipene O'Regan is the retired Assistant Vice-Chancellor Māori of the University of Canterbury and former long-serving Chairman of the Ngāi Tahu Māori Trust Board. He remains as Adjunct Professor in the Ngāi Tahu Research Centre at the University of Canterbury and as a Fellow of the University of Auckland where he chaired Ngā Pae o Te Māramatanga, the Centre for Māori Research Excellence, from 2008-2018.
He holds a D.Litt (Hons) from the University of Canterbury, a D.Comm (Hons) from Lincoln University and a D.Comm (Hons) from Victoria University of Wellington. He is a Distinguished Fellow of the Institute of Directors and recently retired from a 28-year term as a member of the New Zealand Geographic Board.
Tā Tipene led the Ngāi Tahu Claims process before the Waitangi Tribunal from 1986, culminating in a notable settlement with the Crown in 1998. He was a primary architect of the Treaty Fisheries Settlements in 1989, and in 1992 he became the founding Chairman of Te Ohu Kai Moana, the Māori Fisheries Commission. He has been chairman and director of a wide range of entities in both the public and private sectors and has held major board appointments in both the heritage and environment sectors.
Tā Tipene currently chairs Te Pae Korako and Te Pae Kaihika for Te Rūnanga o Ngāi Tahu. These two bodies lead the tribe's work in developing the Ngāi Tahu archive, GIS cultural mapping and maintaining the integrity of the tribal knowledge base. His personal scholarly interest is largely in traditional history and ethnology of Ngāi Tahu and Te Waipounamu.
In more recent years, Tā Tipene has become a widely recognised participant in the debate on the shape and character of the Māori economy and the modernising of iwi governance models. He was made a Knight Bachelor in 1994.
The Companion of the Royal Society of New Zealand Te Apārangi (CRSNZ) award was introduced in 1999 and there are now 55 Companions.
Source: Royal Society Te Apārangi