News
Published 15 October 2020
Winners of the 'Days of Ice: Antarctica Through Fresh Eyes Tauira Film Competition' announced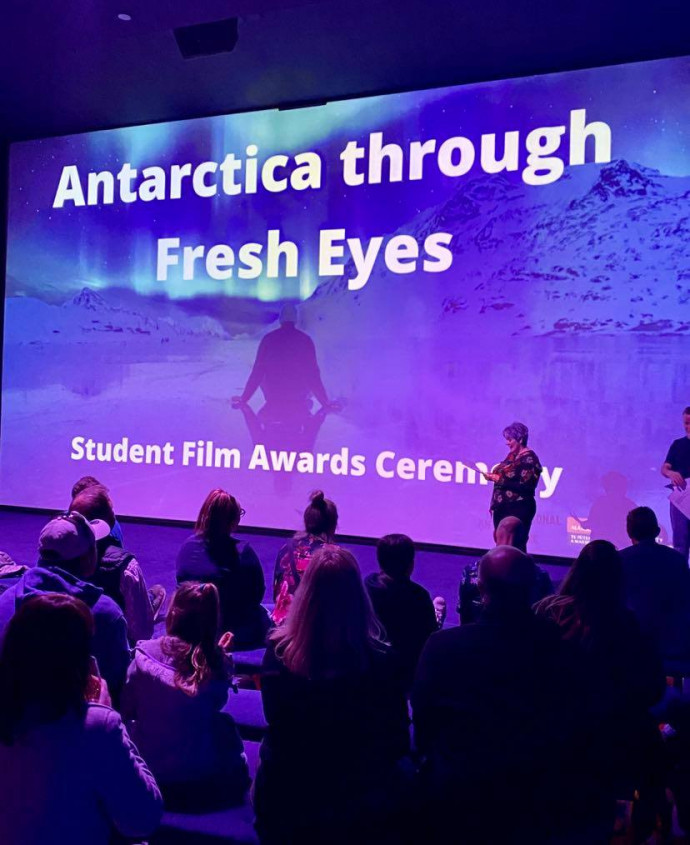 Student film awards ceremony
Five winning teams and individuals from three different age categories were celebrated on 12 October in Ōtautahi for their 3-minute films which encouraged the conservation of Antarctica by exploring the continent through unique perspectives.
Tom Gibson
Tom Gibson is the individual winner in the primary age category.
Tom is a tamariki from Te Whanganui-a-Tara Wellington who, with the help of his sister Harriet, put together an Antarctic quiz show with guests including both penguins and seals. Hosted by Tom, the video takes audiences to Antarctica where they learn key facts about what life is like on the frozen continent.
The Huskies
The winning team in the primary age category is 'The Huskies' with their submission titled 'Forest and Ice'. This team is made up by Opelia Morley Muir, Ella Adlam and Stella James who travelled all the way from Waiaua the Coromandel to accept their award.
'Forest and Ice' showcases an past image of Antarctica covered in trees, warning that if we do not take action to protect the taonga of the frozen continent, an Antartica covered in bush rather than ice could again become a reality in a not so far off future.
Betty Suphaskuldamrong
Betty Suphaskuldamring is the individual winner in the junior age category.
Betty's video encourages audiences to change the way they see Antarctica and consider the well being of the animals that live there before engaging in practices that might be harmful to the planet.
The video calls on humans to take immediate climate action, with Antarctic animals asking the important question: "What about us?".
Kēreru 2020
The winning team in the junior age category is 'Kēreru 2020' with a video that details the impacts of melting ice and rising sea levels on the Pacific Island nations. La-Sharney Sefo, Easter Maka Samasoni, Mjade Tusa Faalili, Caziah Gali and Daisy Fili from Te Kōmanawa Rowley School in Ōtautahi make up the winning team.
In the video, they discuss how climate change threatens loss of traditions, culture, ancestral lands and values in the Pacific. Mjade and Caziah call on the public to take action to ensure that all the students one day have the opportunity to visit their ancestral homeland.
Athena Abrogena
Athena Abrogena is the individual winner in the senior age category.
Athena's video tells the story of a new-born penguin facing a reality experienced by many penguin chicks today. The video highlights the serious consequences of climate change, specifically melting sea ice, on the wildlife in Antarctica.
In doing so, Athena produces a powerful call to action for us to question our everday practices and begin working to protect Antarctica's amazing - but increasingly diminishing wildlife.
Source: Royal Society Te Apārangi