Previous recipients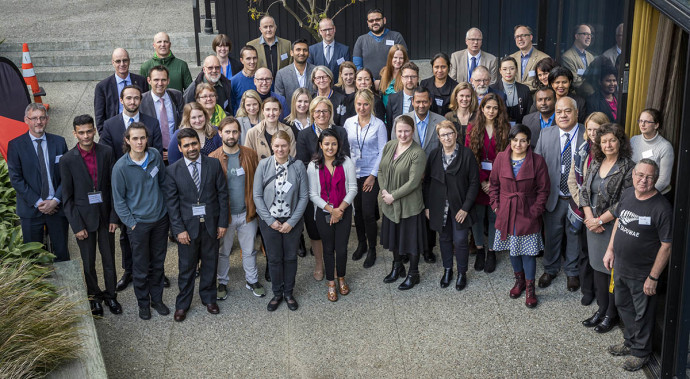 For the first time, on 10 September 2018, New Zealand held its own Falling Walls Lab event separate from the Australian event. The participants were from around New Zealand and the Pacific.
Videos and photos are available from 2018 Falling Walls Lab New Zealand. Watch as 19 young innovators from across Aotearoa and the Pacific pitch their solutions to some of the world's toughest questions within a time limit of just three minutes each.
Videos of the presentations are available to watch on Royal Society Te Apārangi YouTube channel and Photos from the day.  
2018 Falling Walls Recipients:
| | | | | |
| --- | --- | --- | --- | --- |
| Name | Organisation | Presentation title | Problem | Solution |
| Maryam Erfanian Sabaee  | Unitec | Breaking the Wall of silence | Removal of the voice box in a surgical operation such as laryngectomy, removes the pitch generation instrument in the voice production system, hence post laryngecytomised  patients has no voice. | Providing the fundamental data for speech reconstruction: The Acoustic Analysis and Measurements of the distorted speech of the laryngecytomised  individuals. |
| Chris Cameron  | Victoria University of Wellington  | Breaking the Wall of climate inaction | The major issue facing society today is the impact of climate change. It is known as a 'wicked problem' due to its complexity. Raising awareness and finding workable solutions are increasingly urgent. | Adaptive:an online game where players respond to climate impacts-will raise awareness and capture player approaches for further analysis using AI and machine learning to assess what makes for success. |
| Frazer Coutinho  | The University of Auckland  | Breaking the Wall of vision loss | Age-related macular degeneration (AMD) affects 170 million people globally. Unregulated growth and hemorrhage of blood vessels into retina causes a loss of central vision and eventual blindness. | XG19 is a novel peptide therapeutic for the treatment of AMD. The peptide repairs damaged blood vessels and promotes tissue viability of the injured retina thus preserving vision long term. |
| Dr Subhamoy Ganguly  | The University of Auckland  | Breaking the Wall of inadequate financial liquidity | When facing a personal liquidity crunch, low income people often pay a high price in the form of overdraft fees or short-term borrowing costs, causing a vicious cycle of financial insecurity. | When cash balance of an individual is likely to deplete soon, alert the person to reduce discretionary expenses for the time being, thereby reducing the possibility of overdraft. |
| Karamia Muller  | The University of Auckland  | Breaking the Wall of dementia in space | As the the global population ages, related diseases such as dementia are projected to strain existing healthcare systems and informal caregivers beyond capacity, presenting a global health issue. | To provide caregivers with automated, cost-effective advice for designing spaces suitable for people with dementia, drawing from a data set of best-practice architectural and health care knowledge. |
| Sumeet Lal  | The University of the South Pacific  | Breaking the Wall of fertility transition in the Pacfic | This study relates to real-life phenomenon.Total Fertility Rate is declining in Pacific mainly caused by Demographic Transition. This will have an impact on Primary Enrollment and Economic Growth. | Projecting future Primary Enrollment using different fertility variants and then analyzing its impact on long term growth will help the policy makers to decide on the needs and types of interventions.  |
| Tommy Honey  | SLIMBY | Breaking the Wall of unaffordable housing | The model for housing has too many moving parts, too many vested interests, and lacks the requisite conditions for disruption to occur.  The high cost of land prevents young people from participating.  | SLIMBY reduces the cost of land in the rental equation by putting a prefab dwelling unit on a backyard with an online platform that connects a homeowner with someone needing a place to live.  |
| Dr Yvonne Anderson  | The University of Auckland  | Breaking the Wall of child obesity | Childhood obesity has reached epidemic proportions. NZ has the 3rd highest obesity prevalence rates in the OECD. One in 5 children are affected with obesity nationally, and solutions are needed.  | Whānau Pakari is a programme that is breaking down traditional walls of child obesity intervention service delivery, delivering a home-based medical assessment and community intervention programme.  |
| Dr Ali Rashidinejad   | Massey University  | Breaking the Wall of food as medicine | Worldwide, there are currently a lot of chronic diseases (e.g. diabetes, cardiovascular diseases, cancer, etc.) associated with the food that people consume daily.  | Replacing the harmful food options with healthful options would be the way to go. Developing  medicinal food is a sustainable way to prevent and cure most of the chronic diseases in the community.  |
| Emmenual Reddy   | The University of the South Pacific   | Breaking the Wall of mobile learning in the Pacific Islands | What is the secondary school and tertiary student's mobile learning perception, attitude and readiness in the Pacific Islands? Are we ready to integrate mlearning in higher institutes in the Pacific.  | Mobile Learning perception, attitude and readiness is positive in the Pacific Islands. Therefore, educational institutes should now start integrating m-learning in their courses in addition to LMS.  |
| Eryn Kwon   | The University of Auckland   | Breaking the Wall of imagination and reality | Despite the significance of a ballistic incident, it is often difficult to investigate ballistic damages to the head due to the lack of realistic models for testing and experimentation.  | Using the power of a cluster computing, my research offers an economical, efficient and ethical option to study cranial ballistic impacts and the associated blood spatters for forensic purposes.  |
| Delshad Kalantary   | The University of Auckland   | Breaking the Wall of the brain structures responsible for associative learning | Highlighting the role of the Hippocampus & frequency specific prefrontal interactions during associative learning, using an object-paired associative learning task measured by magnetic resonance image.  | Using two adult rhesus monkeys and presenting them with cues, one correct cue and one incorrect one , thereby determine that they learn associative learning within a few 100 trials.  |
| Ankita Poudyal | AUT | Breaking the Wall of inefficient filters | Efficient particle removal and good flow are mutually exclusive for most filters which is why they are less breathable with high cost of operation and filter clogging problems, needing replacements  | Nano-fiber filters can offer solutions to above if they are chemically modified by an easy surface coating technology based on bio-compatible lipid molecules, forming stable coating in a single step.  |
| Samuel Martin Treceno | University of Canterbury  | Breaking the Wall of titanium production | Titanium has the unique properties required to be a widely used structural material. However, the elevated cost of producing this metal limits its application to high-added value products.  | The development of a process to extract titanium from slag, the main by-product of New Zealand's ironmaking process, is proposed as a game-changing opportunity to overcome current restrictions.  |
| Julia Schmack | The University of Auckland  | Breaking the Wall of invasive species management | Social behaviour enables invasive insects to become the most successful invaders and cause severe ecological and economic damages to ecosystems worldwide. Pesticides have been the solution so far.  | We need to understand factors that promote or suppress the invasion success of social insects and develop strategies on a global scale. As a German in NZ, I research German wasp invasion on islands.  |
| Katy Cottrell | Massey University  | Breaking the Wall of waste minimisation | Construction firms across NZ pay to send material offcuts to landfill. This waste retains perfectly good material value. Meanwhile schools with tight budgets spend money buying in material.  | Economate diverts waste from construction to schools for use in sustainability projects. Schools and builders save money, gain PR and relationships and councils meet environmental targets.  |
| Dr Brigid Ryan | The University of Auckland | Breaking the Wall of dementia prevention  | By the time Alzheimer's disease is diagnosed, damage to the brain is too extensive to treat. We need to identify it decades before clinical symptoms appear, so that early intervention is possible.  | I'm leading a research effort to identify diagnostic markers of dementia in its very earliest stages, up to 30 years before clinical symptoms appear, in a patient cohort with genetic dementia.  |
| Brionny Hooper | Scion | Breaking the Wall of safety, without thinking | Tragically, deaths and serious harm injuries across New Zealand's primary sector continue to plague our headlines. Health and Safety initiatives are not working in high-risk workplaces as we'd hope.  | Our brains have been honed over millennia to keep us alive in an unsafe, dangerous world using intuitive, instinctual decision making. Is our intuition the key to keeping workers safe from harm?  |
| Amelia Siga | Pacific Community (SPC) | Breaking the Wall of TVET and CCSE | Energy security and climate change are major issues that are currently hindering the social, environmental and economic development of Pacific - African Carribean and Pacific(P-ACP) countries.  | The development of formal qualifications at levels 1-4 on the PQF, which cover the subject area of "Resilience" (CCA and DRR) and Sustainable Energy.  |