2017 Powering Potential Presentations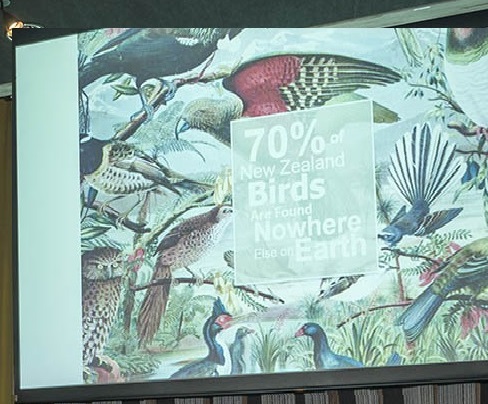 You can watch each team's presentation and listen to their research and suggestions.
Team 1: Jonathan Chan, Nicolas Sinnott, Sarah Haden, Isha Kaur
Question researched:
By seismically strengthening buildings to address current safety perceptions, owners and engineers are inadvertently influencing the cityscape of the future. What makes a good building to preserve for the future, and what makes good strengthening?
Mentor: Alistair Cattanach, Director, Dunning Thornton
Team 1: Video Presentation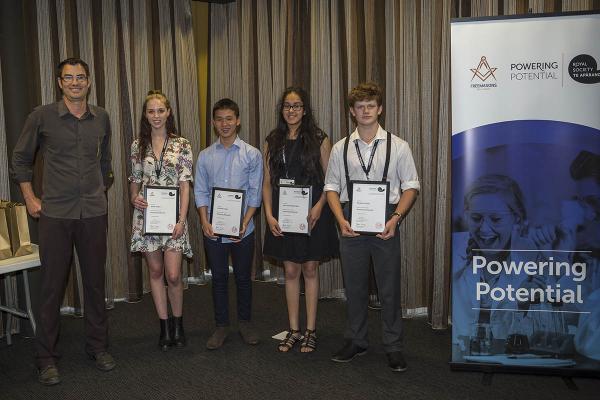 Team 2: Oliver Gwatkin, Lynette Idio, Jason Lee, Lucy Matehaere, Isla Day
Question researched: Can we use paleo-climate data and marine fossil records to identify groups of animals that were vulnerable to ocean acidification and warming?
Mentor: Dr Kate Sparks, University of Otago
Team 2: Video Presentation
Team 3: Anthony Hua, Katie Liu, Karl Brinsdon, Sophie Piesse, Isabella O'Meeghan
Question researched: How does daylight saving time affect our physiology, health, and performance, and by what mechanisms?
Mentor: Dr Lora Wu, Sleep & Wake Centre, Massey University
Team 3: Video Presentation
Team 4: Aidan Rowlingson, Kate Stedman, Jack Nelson, Anjali Gentejohann, Phoebe Liu
Question researched: Now that myrtle rust and kauri dieback are in NZ, how do we best manage these diseases to ensure the long term survival of unique New Zealand species?
Mentor: Dr Kirstin Wurms, Plant & food Research
Team 4: Video Presentation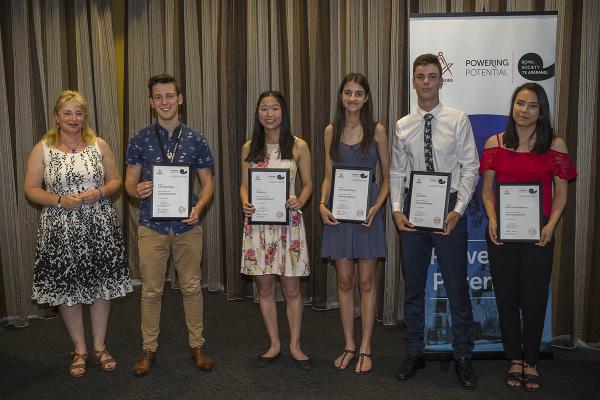 Team 5: Paice Vaughan, Zoe Glentworth, Lily Tang, Dylan Coleman, Nicole Cameron
Question researched: New Zealand has about 80 recently extinct species and several thousand species currently in danger of going extinct. What are the pros and cons of de-extinction of New Zealand's flora and fauna?
Mentor: Dr Lara Shepherd, Museum of New Zealand Te Papa Tongarewa
Team 5: Video Presentation
Team 6: Kim Fowler, Kitty Sun, Max Sales, Kerry Parkinson, Vanessa Ye
Question researched: How does our physical and social environment affect our susceptibility to infectious disease, especially in childhood in New Zealand?
Mentor: Dr Donia Macartney-Coxon, ESR
Team 6: Video Presentation
Team 7: Ben Watts, Weihong Yi, Lily Clague, Rasela-Rose Ualesi, Nikita Raman
Question researched: What are the different ways that you can provide environmental enrichment to improve housing conditions for animals being used in research teaching and testing
Mentor: Dr Nicki Cross, Ministry of Primay Industries
Team 7: Video Presentation

Team 8: John Robinson, Olivia Paxie, Zach Dewhurst, Mikayla Stokes, Shari Webber
Question researched: How can vaccines limit the burden of antibiotic resistance?
Mentor: Dr Benji Compton, Ferrier Institute, Victoria University of Wellington
Team 8: Video Presentation