T.K Sidey Medal
The T. K. Sidey Medal was awarded at irregular intervals for outstanding scientific research concerning electromagnetic radiation.
Such research may have included interaction with matter, its impact on living organisms, its use in communications or its application in any other manner beneficial to human welfare.
Background on the medal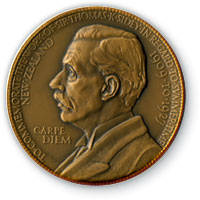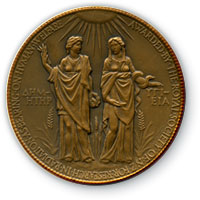 T. K. Sidey (1863-1933) served in Parliament from 1901 until 1928 when he was called to the Legislative Council as its leader, serving as Attorney-General and Minister of Justice. The promotion of legislation for daylight saving was a special concern and he promoted the Summertime Act which was passed in 1927.
The T. K. Sidey Summer-Time Fund was established by the transfer to the New Zealand Institute of £500 collected to commemorate the passing of the Summer-Time Act 1927 through the instrumentality of Sir Thomas A. Sidey; the revenue in terms of the declaration of trust is to support the award of the T. K. Sidey Medal.
Recipients
2016

Professor Rick Millane for his wide-ranging and fundamental work in x-ray diffraction imaging, diffraction theory, and optical diffusion imaging, and their application in biology and medicine

2013

Jim McQuillan – for his part of a research partnership that created a new chemical analytical technique called surface-enhanced Raman scattering (SERS) and developing infrared spectroscopy to examine wet metal oxide nanoparticles.

2010

Grant Caldwell – for his pioneering studies of the Earth's volcanic and fault line regions using magneto-telluric techniques that survey the Earth's structure to depths of more than 30 km.

2007

Roger John Reeves – in recognition of his superb contribution to research intrinsically associated with electromagnetic radiation.

2004

Pablo Gabriel Etchegoin
Ian James Hodgkinson

2001

Richard John Blaikie
Robin Jon Hawes Clark

1997

Richard Lindsay Dowden
John Lekner

1984

Ian James Warrington

1977

Roy Fergus Benseman

1973

Norman Jack Rumsey

1966

Walter Sidney Metcalf

1959

John Hobart Piddington

1955

Henry Arthur Whale

1951

Victor Albert Bailey

1947

David Forbes Martyn

1936

Leonard Hill

1933

Ernest Rutherford

1933

George Vernon Hudson (special award)