Languages in Aotearoa New Zealand

2013: This paper outlines the major issues facing language
practices in New Zealand.
New Zealand is now more diverse than ever before, having seen unprecedented increases in the ethnic, cultural, social and linguistic diversity of the New Zealand population. There are now over 160 different languages spoken in New Zealand, and Auckland is one of the most culturally diverse cities in the world.
This paper presents a broad view of languages use in New Zealand using international and national research. The research outlined explores the case for a national languages policy in order to unify disparate policies and areas of practice.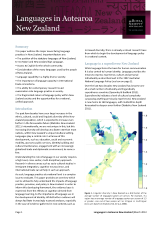 Download paper: Languages in Aotearoa New Zealand