Tāone Tupu Ora: Indigenous Knowledge and Sustainable Urban Design — Keriata Stuart and Michelle Thompson-Fawcett (Eds) (2010)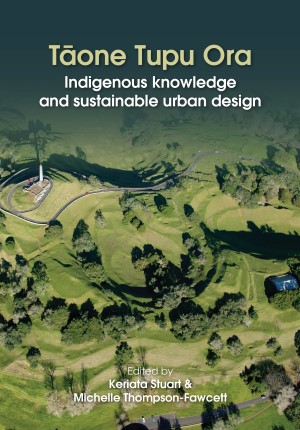 This book considers how traditional Māori built environments can inform contemporary urban development, how Māori values could inspire our visions for the twenty-first-century city, and what Indigenous knowledge can tell us about how to create a more sustainable design for the future
Publication details
Stuart, K. and M. Thompson-Fawcett (Eds). Tāone Tupu Ora: Indigenous Knowledge and Sustainable Urban Design. Wellington: Steele Roberts, 2010.
About the book
Tāone Tupa Ora asks a critically important question: how can traditional Māori knowledge, in all its complexity and wholeness, contribute to creating sustainable cities and urban environments into the 21st century?
Editors Keriata Stuart (Te Ātiawa, Taranaki, Ngāti Mutunga) and Michelle Thompson-Fawcett (Ngāti Whātua) have assembled a group of academic and practitioner writers to suggest some compelling answers. The book brings together perspectives on a broad range of urban issues, from Māori development to architecture, town planning to strategic growth management. It collects stories of iwi experiences in the 21st century and suggests principles and theories on which to base change.
The motivation for the collection in Tāone Tupa Ora originated from symposia held by the New Zealand Centre for Sustainable Cities (the publisher of the book) exploring indigenous knowledge and sustainable development. The result is a practical work that makes an important contribution to our appreciation of the breadth and depth of indigenous knowledge and how it can inform effective sustainable design and planning policy. Urban planners and designers, researchers and students will find much to contemplate and apply in this collection
Further information
This publication is part of the series Te Takarangi: Celebrating Māori publications - a sample list of 150 non-fiction books produced by a partnership between Royal Society Te Apārangi and Ngā Pae o te Māramatanga.