The Autobiography of a Maori - Reweti T. Kohere (1951)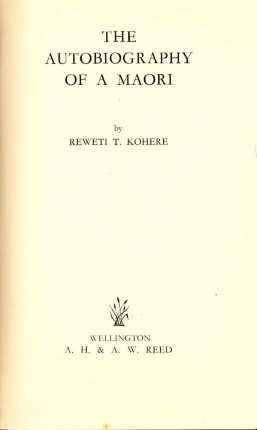 Reweti Kohere's 1951 book is regarded as the first published autobiography in English by a Māori author.
Publication details
Kohere, R. T. The Autobiography of a Maori. Wellington: A. H. & A. W. Reed, 1951.
About the book
Reweti Tuhorouta Kohere (1871-1954; Ngāti Porou) was an Anglican clergyman, newspaper journalist and editor, a farmer, writer and historian. He was also one of the foremost writers and speakers in te reo Māori and in 1951 towards the end of this life, published his autobiography. Kohere continued writing and publishing material such as whakatauāki, waiata and moteatea and accounts of Māori tradition up to the time of his death.
Kohere's autobiography covers his early years of growing up in Te Araroa, his education at Te Aute College and Canterbury College, his time as an Anglican clergyman on the East Coast and his editorship of the church's Māori-language newspaper, Te Pipiwharauroa (1899–1913).
Reweti Kohere's book is a rare account of early autobiographical writing providing a glimpse into the life of this Ngāti Porou leader.
Further information
This publication is part of the series Te Takarangi: Celebrating Māori publications - a sample list of 150 non-fiction books produced by a partnership between Royal Society Te Apārangi and Ngā Pae o te Māramatanga.