Weeping Waters: The Treaty of Waitangi and Constitutional Change—Malcolm Mulholland and Veronica M. H. Tawhai (Eds) (2010)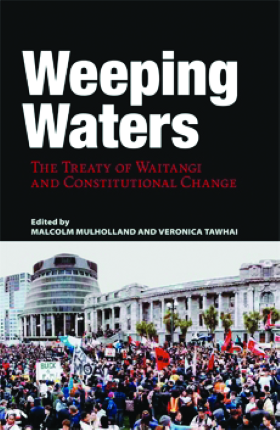 Veronica Tawhai (Ngāti Porou, Ngāti Uepōhatu) and Malcolm Mulholland (Ngāti Kahungungu) have co-edited this publication, bringing together Māori opinion on a range of topics pertinent to the Treaty of Waitangi and constitutional change.
Publication details
Mulholland, M. and V. M. H. Tawhai (Eds). Weeping Waters: The Treaty of Waitangi and Constitutional Change. Wellington: Huia Publishers, 2010.
About the book
Weeping Waters, published in 2010 was timed to coincide with the 170th Waitangi celebrations. The main thrust of the book demonstrates how Māori views have been ignored by successive governments and the courts and how Māori have attempted to address constitutional issues in the past. It also provides suggestions for a pathway forward if the Treaty of Waitangi is to be fully acknowledged as the foundation for a constitution for Aotearoa. Among the 18 contributors to the book are well-known and well-respected Māori figures, including Professor Margaret Mutu, Bishop Muru Walters, Judge Caren Fox and lawyer Moana Jackson. At the time of publication, this was the first book in recent years to offer a Māori opinion on the subject of constitutional change
Further information
This publication is part of the series Te Takarangi: Celebrating Māori publications - a sample list of 150 non-fiction books produced by a partnership between Royal Society Te Apārangi and Ngā Pae o te Māramatanga.