Emi Piuila-Afitu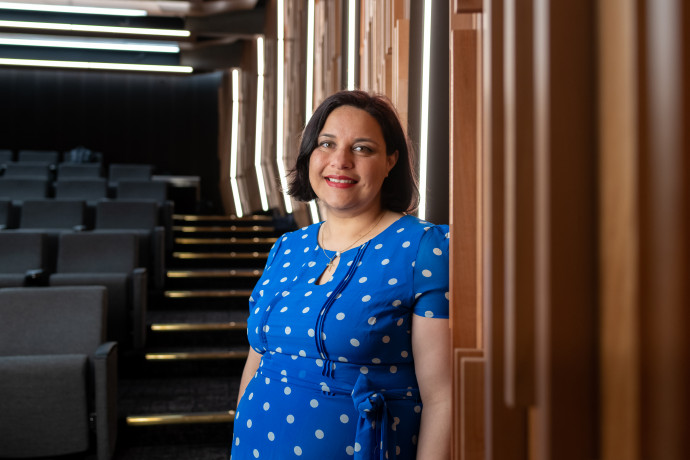 Emi Piulia-Afitu was repeatedly turned down from jobs due to a lack of experience. Now she is an experienced Senior Analyst at the Ministry of Education who is passionate about helping people through evidence-based decision making and policy change—or what she calls "data stuff".


Q: Did you always know you'd get into research?
A: Kinda. When I finished my undergrad in Physics with Honours, I wanted to be a Research Scientist and worked as a Physicist for 4 and a half years when I lived in London. But when I came back to New Zealand I ended up working in the energy sector (which I had experienced in the UK) and then had a total change and went off to Dubai and became a buyer for online retail websites based in the UK!
When I came back I worked as a buyer for two years before retraining by doing a Master of Analytics. But a lot of my work has involved data and/or analysis.
Q: What barriers, if any, have you had to overcome to get where you are?
A: The toughest one is getting experience after finishing study. I had 13 interviews after my Masters. They all said I was great, but just didn't have enough experience! It was very frustrating!! You need someone to take a chance on you.
There are graduate programmes out there as well as internships. These seem like they could be good, however, they tended to be in Auckland more than anywhere else from what I found.
Q: Why did you decide to pursue analytics?
A: I was working as a Buyer for loyalty reward programmes in Auckland after I came back from Dubai. The company I was working for was part of a larger international company. We would get the international newsletters and there were often articles about the amazing things that you can do with analytics, like driving customer behaviour.
So, I decided to get back into work with data, but to go further than before. I found a Masters programme that fitted with what I wanted to do and went from there!
Q: What kind of analytics do you measure?
A: Since finishing my Masters, I have worked at New Zealand Police twice, ACC and the Ministry of Social Development (MSD) (in two different groups). I am currently working at the Ministry of Education (MoE).
At MoE, I am on a 5-month fixed term contract as a Senior Analyst in the Information Response team. We get requests for data and respond with data. I'm particularly working on my SAS programming skills while in this role.
Q: What findings have you made that have shocked or amazed you?
A: When I was working at MSD on implementing Pay Equity for Disability Care and Support Workers, I was shocked by how low many of the workers' pay was. People were working there for over twelve years or with level 4 qualifications and only getting minimum or just over minimum wage. The pay equity agreement significantly raised the pay rates for workers across the board.
The new pay equity pay rates were really life-changing for many of the workers. I read about one worker that could now afford to go to the movies with their partner. It was great to know that the work I was doing would have such a positive effect on so many lives.
The pay equity settlement raised hourly wages from around $16-$17 to minimum $19 from 1 July 2017 at the lowest tier (less than 3 years service or qualification level 0) to $23.50 for workers with over 12 years of service or level 4 qualifications in the highest tier. The final settlement rates starting 1 July 2021 will be $21.50 for the lowest tier to $27 at the highest tier. This was a very well deserved and significant increase!
Q: Why is it important to collect data?
A: I would probably take this back a step first and say that it's important to consider data at the early stages of project/programme design. Too often it's added on the end without consideration for collection processes, what's collected, and if useful information can be collected.
Additionally, it's important to know what the data is being collected for and not just collecting all the data for data's sake. This is especially true when looked at through the lens of data sovereignty and ownership. I highly recommend that people look into data sovereignty and who benefits from data that's collected and how that benefit should be shared.
Once what data to be collected is decided on, then it's important to collect the data well and to analyse it (don't just sit on it!). Data has the power to inform and improve decisions.
Q: What outcomes do you think your mahi will have?
A: Over my career, I hope my work will help people understand the importance of including data considerations early in the design of a project/programme. Additionally, I hope that how I work and the considerations I make around data sovereignty and using empowering statistics rather than negative statistics will be picked up by those that I work with and for.
I also hope that the work I do linking the business side and the data side will mean that both sides get a better understanding of the other and their drivers.
Q: What really matters to you?
A: I want my work to have meaning and to help people.
Q: Why do you do what you do?
A: I find it interesting, I enjoy it, it's mentally challenging and I'm good at it.
Q: Why does research, or data, matter?
A: Data is how we determine the current status of things, can measure changes due to our actions or external events, and also how we can forecast what changes may come about in the future.
Data has the power to inform and improve decisions. Data, analytics, and insights are important to know and consider when any decisions are being made. I don't think it's enough to go 'on gut instinct'. Evidence, trends, and real-world insights into reasons why things have happened, are happening or what could happen are how best to get where we are aiming.
I highly recommend that people look into data sovereignty and who benefits from data that's collected and how that benefit should be shared.