Stephanie Kaefer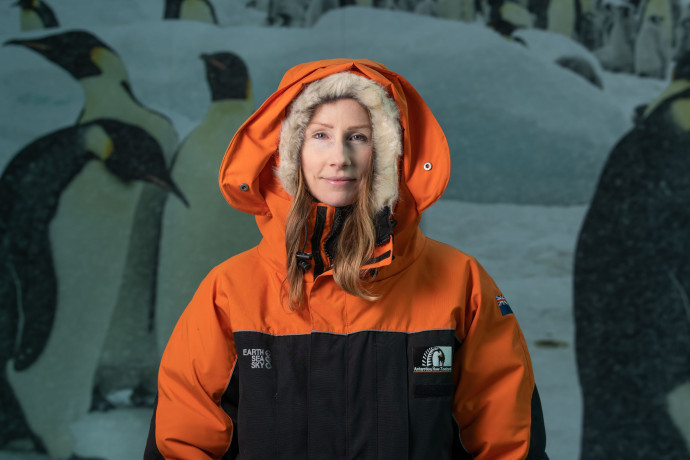 Stephanie was introduced to linguistics in university and never looked back. Though her path hasn't always been clear, she followed her own curiosity which led her to Antarctica, a place she calls 'paradise'. Now she studies language in the frozen continent - a discipline not previously explored. She is driven by a passion to spread awareness and increase accessibility of Antarctic research.


Q. What got you started into your research?
A: My research covers two areas, language and Antarctica. These were two areas that I have always been interested in, but I never dreamed that I could combine them. I've always been fascinated by the way language works and spent over ten years studying linguistics to find out more and to specialise in language research. As a child I was really interested in Antarctica and would watch countless documentaries and read articles and books about it. In recent years, I began to meet more and more people who had visited Antarctica for their research or to work there. Their experiences inspired me, and I started going to any conference or talk about Antarctica that I could, but it seemed to only be something I could enjoy as a side interest, not as a research area or a career. I never imagined that I could create a PhD topic that explored language in Antarctica.
After attending a conference and talking with an academic specialising in humanities/social science research in Antarctica, I began to think about how I could look at Antarctica from a linguistic viewpoint. From there, the idea snowballed and I discussed it with my now PhD supervisors and it became a real avenue for research.
Q. Why do you do what you do?
A: Because I love searching and trying to find out more. I also want to help facilitate areas, such as science, and places like Antarctica, to people who may not know much about it or how to access information about it.
Most research on or in Antarctica is science-based, but by helping lift the profile of the humanities and the social sciences research in and on Antarctica it could also create more awareness to the wider public of the science taking place there. The science research concerning Antarctica is incredible, but often is less accessible to the wider public. So, by giving some of the research a more humanities or social science angle I could make it more relatable to the wider public and could encourage them to look more into the science being done too.
Linguistics is an area that the wider public seem to find interesting, judging by the reporting of it in the media (news reports and articles) on linguistic phenomena happening in languages people speak now. Therefore, combining linguistics and Antarctica could be a really positive thing for both areas.
Q. Did you always know you'd get into research?
A: In a way yes, but I never imagined I'd be doing the things I'm doing now. I always knew I wanted to go to university and once I finished my BA and BSc, I knew I was free to go out into the real world, but I never felt that my studies were complete. I wanted to keep learning and delve deeper, which led me to do a Masters and then start a PhD. I took a five year break between my MA and PhD but during that time, I always longed to go back to university and keep going with my academic journey.
Q: How did you get into studying linguistics?
A: I started university originally planning to study classics and history but when I was in my second year of studying these subjects I decided to do a course that was double coded for history and linguistics, it was called 'The history of the English language'. From this course I learned all about how the English language developed over time and was introduced to linguistic theories and concepts to explain this development. This course blew my mind and I was converted to linguistics. So in my third year of my BA, as I was finishing up with third year classics and history courses, I also took Ling101. This was the beginning of my academic career in linguistics and I never looked back.
Q: When did you come up with the idea to study linguistics in Antarctica?
A: One evening I was having a casual gathering at my flat and told a fellow linguist friend about how much I loved Antarctica and that I would love to do something that combined linguistics and Antarctica. I mentioned that it would be cool to study the special words that are created by and used only by people who work there (Antarctic-specific jargon). My friend was intrigued and suggested I could take it a step further by recalling a linguistic study they'd heard about in a similar environment - Basecamp at Mt Everest in Nepal. After that conversation, I couldn't stop thinking about it.
At that time, I was in the process of applying to do a PhD at the University of Canterbury on a completely different topic (and I mean completely different, I was going to do a linguistic study on medieval Latin!). One evening I was having a beer with my future PhD supervisor at a friend's farewell party and she asked me how I was feeling about starting my PhD soon. I told her I was feeling a bit uncertain about my topic and told her how I just wanted to finish it quickly because I had an idea to do the PCAS (Postgraduate Certificate in Antarctic Studies) after I finished. I told her about how cool it would be to go to Scott Base and record people to study their speech. I then told her about the jargon and the Basecamp study and she looked straight at me and said that this was what I should be doing my PhD on. Not long after, the wheels were put in motion and the PhD project became a reality.
Q: What was your experience like travelling to Antarctica?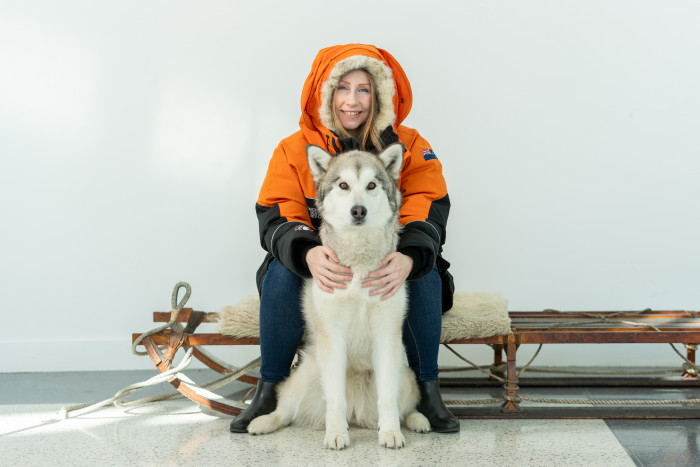 A: It was surreal. I couldn't believe it was all really happening, but I was also really, really nervous! Travelling in an airforce plane for eight hours over the freezing Southern Ocean to arrive in a frozen wilderness was incredibly daunting.
I still remember sitting in the shuttle on the tarmac at Christchurch Airport, watching the Defence Force guys loading up our C-130 Hercules plane in disbelief that I would soon be travelling on it. The actual flight down was a little less glamourous than previous flights I'd taken. There was no inflight entertainment, no flight attendants to bring you cups of tea and hot meals, no toilet cubicles, no soft cushy reclining seats, in fact there were no seats as such, rather there were canvas camp-stretcher like seats that you had to tuck your thick down ECW jacket into to act like a cushion and the inflight meals were a packed lunch in a brown paper bag. While the only inflight entertainment was watching the Defence Force staff doing their routine checks and any movies I had hurriedly downloaded from Netflix to watch in offline mode before we left...and I don't think you want to know about the toilet situation...
But despite the slight discomfort, it was the best flight I've ever taken in my life and I would give up any opportunity to travel business or first class on a traditional flight to take that journey again. It was the most incredible honour to be given the opportunity to visit my favourite place in the whole world and it's a journey and experience that I will joyously relive over and over for the rest of my life.
Q: Describe Antarctica in one word.
A: Paradise.
Q: What are you currently working on?
A: At the moment I am preparing for my PhD confirmation. This is usually done at the one year mark in a PhD and is sort of the 'stop-check' to make sure that a project is viable and can be completed in three years. It's a pretty tough part of the PhD because you have to really communicate and justify what you want to do, why you are doing it, what you hope to achieve and how you will do it. I think a lot of students, myself included, really dread the confirmation but it's useful in that it helps you see the wider picture and implications of your research and how you will have to work to achieve your goals.
Q: Why is your research important?
A: This is a hard question because I think that every researcher or student thinks their research is important, at least to themselves because they are probably living and breathing it. Sometimes I think my project is just such an insignificant study and that none, especially in the wider Antarctic or scientific community will care about it, because it's not scientific in the traditional sense. But so far, many people have told me it's really interesting and like the social sciences angle to Antarctic research. So if anything, I hope that it generates discussion and further social scientific research in Antarctica and also creates awareness of the field of linguistics to people who might not know much about it.
Q: What barriers have you overcome thus far in your research career?
A: The biggest barrier so far would be the financial aspect. I am self-funding my PhD and that can be really tough at times. To overcome this barrier I have to really balance my time well between PhD work and part-time work. The benefit of this is that I have developed some very good time management skills.
Another barrier was getting to Antarctica to do my research, which is no easy feat. The Ministry of Foreign Affairs and Trade don't let just anyone go to Antarctica and it can take a long time to get a project approved to go there, if at all. So the fact that I was able to go, was nothing short of a miracle. I owe that miracle to my secondary supervisor in Gateway Antarctica at UC. She worked really hard to get me on a team that had a spare seat on a flight really early into my PhD. If it weren't for her efforts and the efforts of the leader of my team at Antarctica New Zealand, I would never have gotten to go.
Q: What opportunities have you been able to maximise?
A: Apart from being given the opportunity to travel there, I would have to say the networking opportunities from working in this area have been really helpful. I have been introduced to so many amazing and talented people who all want to help and give me great advice that will help my project.
Q: What is one thing about doing what you do that inspires you to get out of bed in the morning?
A: Probably the people who I interviewed in Antarctica. The people who work there are just an exceptional group of people and I was really humbled that they would give me their time to allow me to interview them. Because the team down there isn't huge they have a lot of responsibilities and work really hard which means they often don't have a lot of free time. So, the fact that they used their free time to help me means the world. Therefore, I want to do them justice by creating an insightful PhD that uses what they gave me to make a contribution to both linguistics and research on the social sciences in Antarctica.
Q: Can you use one word to tell us why research matters?
A: Awareness.
Q: How do people respond when you tell them you are studying language use at Scott Base?
A: With surprise and amazement at first, and then interest and fascination. 'Language' and 'Antarctica' seem like such unlikely bedfellows that they aren't two words you often hear in the same sentence. I have had so many positive responses and people are genuinely intrigued about my project.
My nephew was pretty excited too, especially when I rang him on his sixth birthday from Scott Base and told him I'd met a penguin while I was camping out on the ice...he even made me a painting of a penguin that he was very excited to give me as soon as I came back.