News
Published 17 November 2023
2023 Rutherford Foundation Postdoctoral Fellowships announced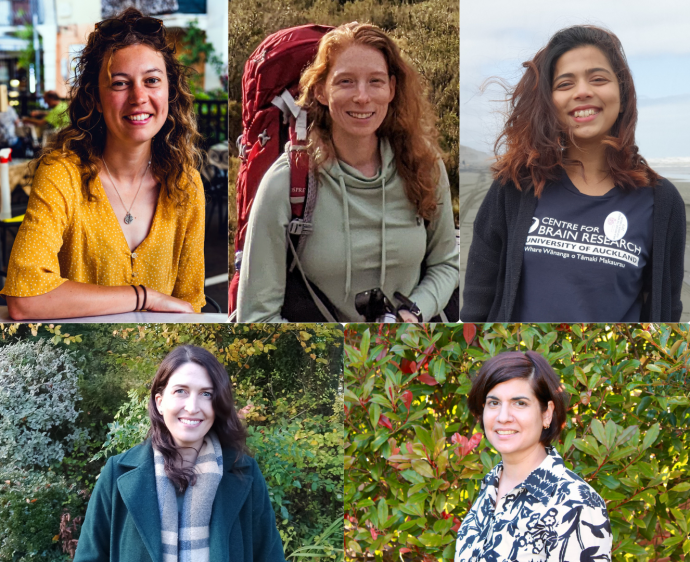 Clockwise from top left: Dr Sarah van Eyndhoven, Dr Marion Donald, Dr Akshata Anchan, Dr Preeti Cowan and Dr Jean Power
Five Rutherford Foundation Postdoctoral Fellowships have been awarded to excellent early-career researchers in Aotearoa New Zealand by Royal Society Te Apārangi.

The 2023 recipients will be exploring diverse research topics including the development of brain cancers, identification of 'small worlds' on the edges of our solar system and the shifting identities of early immigrant communities in Aotearoa.


The Rutherford Foundation Postdoctoral Fellowships seek to build human capability in research, science and technology by investing in outstanding early-career researchers. Fellowships provide a total of $400,000 (excluding GST) over two years for recipients to carry out full-time research, with allocations for salary, institutional overheads and research expenses.
These grants are meant to help promising young researchers build a strong foundation for a successful, independent career in their field. Selected recipients are passionate about their work and the potential it has to benefit Aotearoa.
The recipients of the 2023 Rutherford Foundation Postdoctoral Fellowships are:
Dr Akshata Anchan (University of Auckland) for research entitled: 'Melanoma suspension particles and brain-metastatic extracellular vesicles in disruption of brain endothelial barrier integrity.'
Dr Anchan seeks to understand how cancer cells can pass through the blood-brain barrier to form 'secondary' tumours in the brain and how by-products of cancer cells influence brain cancer.
Dr Preeti Cowan (University of Auckland) for research entitled: 'Discovering distant worlds in our solar system with deep learning'.
Dr Cowan will train a neural network to recognise trans-Neptunian objects in large imaging datasets—increasing our understanding of these 'small world' remnants from the solar system's formation.
Dr Marion Donald (Manaaki Whenua – Landcare Research) for research entitled: 'A trait-based approach for predicting conservation status of Aotearoa New Zealand's pollinators'.
Dr Donald will focus on New Zealand's two key pollinator groups – flies and bees. She seeks to compile and add new data on these pollinators and identify traits that predict their conservation status in changing environmental conditions.
Dr Sarah van Eyndhoven (University of Canterbury) for research entitled: 'Between the Clutha and the Kawarau – the threads of old and new identities shaping written language use among early Scottish immigrants to New Zealand'.
Dr van Eyndhoven will study the private writing of New Zealand's 19th century Scottish settlers to understand their shifts in language use and sense of identity.
Dr Jean Power (University of Canterbury) for research entitled: 'Solving microbial community function using Aotearoa-New Zealand geothermal springs as model systems'.
Dr Power will sequence the genomes of microbial species from 100 geothermal springs in the Taupō Volcanic Zone to better understand the roles they play in their ecosystems and draw attention to their value as treasured native species.
From 2024, MBIE will support future leaders in research, science and innovation through the three Aotearoa New Zealand Tāwhia te Mana Research Fellowships schemes, which will replace the Rutherford Discovery, Rutherford Foundation and James Cook Research Fellowships.
Professor James Sneyd FRSNZ, Chair of the Rutherford Foundation selection panel, comments that "working for this scheme has been a real privilege".
"Its recipients are truly Aotearoa's next leaders across academic lines and flavours. Their passion, hope, and future ambitions can inspire us all."
More information on the recipients is available at www.royalsociety.org.nz/rutherford-foundation-recipients
Source: Royal Society Te Apārangi