News
Published 7 November 2019
Talented school students selected to seek answers to big questions at Powering Potential event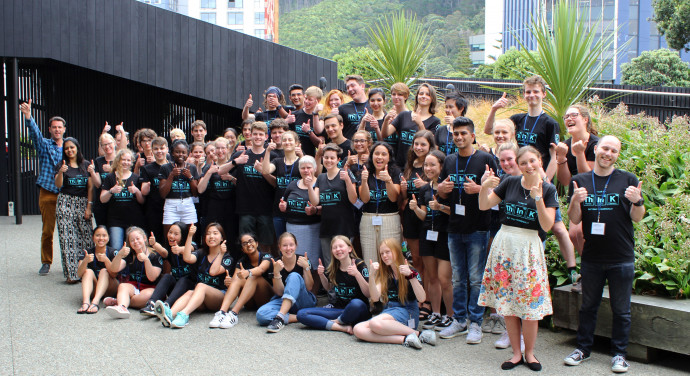 Powering Potential participants 2018
Forty talented senior secondary school students will be tasked to find answers to challenging questions posed by scientists/specialists at Powering Potential, taking place in Wellington from 16–18 December 2019.
Organised by Royal Society Te Apārangi in partnership with the Ministry of Business, Innovation & Employment and Freemasons New Zealand, Powering Potential will bring many of New Zealand's most promising science students together from all over New Zealand to work alongside a scientist or specialist who will act as their mentor over three days. The students will work in teams of five on a question submitted by their mentor. The students will then research, investigate and collaborate to provide recommendations.
The Society is delighted the following businesses and organisations have volunteered a science mentor to help the students over the three days: NIWA, Lincoln University, University of Auckland, Environmental Science Research (ESR); Sleep Wake Centre; Informetrics and Curious Minds Ambassadors from Otago and Taranaki.
"The Society was pleased with the large number of applications received this year and the wide regional representation in the students selected. Students will be required to work in teams and hone their research skills. At the end of the three days, each team will present its findings at a special presentation," said Dr Andrew Cleland, Chief Executive of Royal Society Te Apārangi.
To be selected for Powering Potential, each student was required to submit an in-depth application and video, which focused on their own science strengths or how they have contributed to an area of science in their school or community. The students have been selected because they are serious about going on to study science at a tertiary level and have demonstrated a passion for science. Dr Cleland said: "The calibre of the students who applied was excellent and some tough decisions had to be made by the selection panel to get the number down to 40".
Freemasons New Zealand Grand Master Graham Wrigley, is delighted that for a further year, the Freemasons continue to been engaged with Powering Potential in partnership with Royal Society Te Apārangi. "The quest for knowledge, development and personal growth for our youth are at the cornerstone of Freemasonry and we know that this programme makes a huge difference to all those who take part."
Students selected for Powering Potential
The students selected to attend Powering Potential 2019 are:
Far North
Acima Mabidikama and Jonty Kirk, Kerikeri High School
Northland
Eila Rose Jones, Whangarei Girls' High School

Rutu Hebbal, Huanui College
Auckland region
Manaal Mehamood, Westlake Boys' High School, North Shore

Olivia Gordon, St Mary's College, Ponsonby

Vaibhav Nayyar, Mount Albert Grammar School

Kimberly Pinto, Marist College, Mount Albert, Auckland

Rosie Wang, St Cuthbert's College, Auckland
Waikato region
Petra Fisher, Mercury Bay Area School

Jamie Mudford, Waihi College

Sebastian Manning, St John's College, Hamilton
Bay of Plenty
Orla Walsh, John Paul College, Rotorua
Eastern Bay of Plenty
Bailey Rackham, Trident High School, Whakatane
Hawke's Bay
Phoebe Laugesen, Napier Girls' High School

Romona Wainohu, Karamu High School
Taranaki
Jessica Frost, New Plymouth Girls' High School

Joel Clement, Opunake High School
Whanganui
Candice Clark, Whanganui High School
Kāpiti
Millie Day and Benjamin Carson, Kāpiti College

Rebecca Davis, Paraparaumu College
Porirua
Olivia Mercer, Aotea College
Wellington
Lydia Acton, Wellington High School

Florence Collis, St Mary's College, Wellington
Nelson region
Theo Scott, Waimea College
West Coast
Rata Roa, Buller High School
Christchurch
Leah Albrow, Riccarton High School

Jessica Cowie, Cashmere High School
South Canterbury
Bailey Lissington, Timaru Boys' High School

Victoria Hutana, Mt Hutt College
Otago
Tahlia Braithwaite, Bayfield High School

Samantha Couper and Lucy Davidson, Otago Girls' High School

Aaron Hewson, King's High School

Rosa Latton, Kavanagh College

Ben Hamlin, Taieri College
Central Otago
Archie Ritchie, Wakatipu High School
Southland
Robert Beck, James Hargest College

Olivia Gray, Southland Girls' High School
Powering Potential presentation
Source: Royal Society Te Apārangi