News
Published 6 June 2018
Video: Ornamental to detrimental: The invasion of New Zealand by non-native plants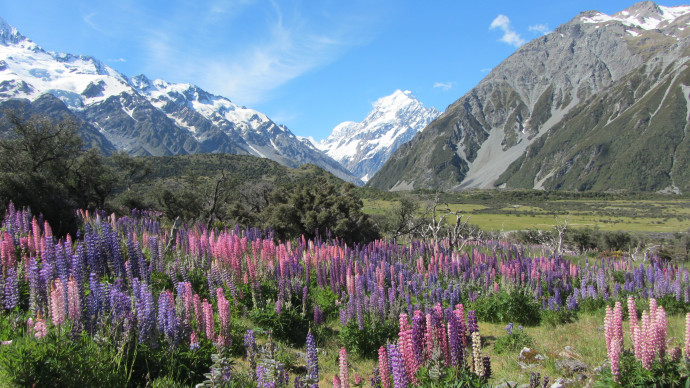 Non-native pink and purple lupins spreading through Aoraki Mt Cook National Park
Current and future threats to New Zealand by non-native plants, and the policies and tools that are needed to control them. This talk is presented by Professor Philip Hulme FRSNZ, 2018 recipient of the Leonard Cockayne Lecture Award.
Chair in Plant Biosecurity at Lincoln University, Professor Philip Hulme of the Bio-Protection Research Centre received the 2018 Leonard Cockayne Lecture Award for his scholarship and scientific achievements that have significantly progressed global understanding of the causes and consequences of biological invasions.


His lecture Ornamental to detrimental: The invasion of New Zealand by non-native plants considers why New Zealand is one of the weediest places on earth, and what needs to be mobilised so we are able to stay on top of the situation.
Professor Hulme says ""New Zealand's environment and agricultural production are central to the economy, and biosecurity threats are a major concern for the sustainable use of these resources."
This lecture series was presented in partnership with the Bio-Protection Research Centre in conjunction with our Branches based in the Manawatū, Hawke's Bay, Canterbury, Wellington and Nelson through May-June 2018.
The Leonard Cockayne Lecture, the Charles Fleming Lecture and the Hamilton Award belong to our Academy Lectures suite, where we share the expertise of New Zealand researchers on an annual basis at free public talks throughout the country.
Source: Royal Society Te Apārangi