Waka lab to study volcanoes in the Pacific Ring of Fire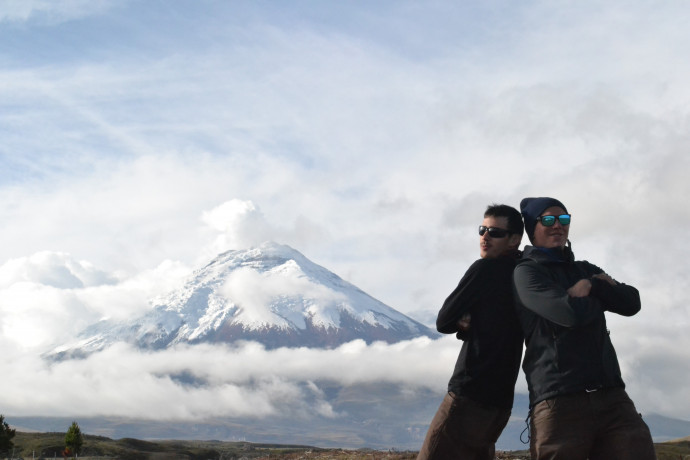 Dr Ian Schipper (right) and Dr Yves Moussallam (left) at the foot of Cotopaxi Volcano, Ecuador (Photo: Trail By Fire)
Dr Ian Schipper of Victoria University of Wellington and Dr Yves Moussallam of Institut de Recherche pour le Développement will lead an international team on a mission to better understand the effects of volcanic gas emissions. To do this, they will sample some of the world's most inaccessible volcanoes - in a waka.
Published 8 November 2018
All active volcanoes give off gases. These emissions play an important role in the timing and nature of volcanic eruptions, and profoundly impact the climate. The volcanoes of Melanesia occupy an intensely active segment of the Pacific Ring of Fire, a volatile area where many earthquakes and eruptions occur. Satellite estimates indicate that one third of all the world's volcanic gases originate from Melanesian volcanoes. However, current sampling is biased towards easily accessible volcanoes in developed countries. This bias limits our understanding of the levels and environmental impacts of volcanic gas emissions.
Dr Ian Schipper of the Victoria University of Wellington and Dr Yves Moussallam of the Institut de Recherche pour le Développement, France, have been awarded a Marsden Fund grant to sample gas emissions from the active terrestrial and underwater volcanoes of Papua New Guinea, the Solomon Islands and Vanuatu. In partnership with Māori and Melanesian voyaging societies, they will build a mobile volcano observatory in Melanesia using modern waka. From this "waka lab", the team will use aerial drones and ocean submersibles to collect samples from submarine volcanoes and provide insight into how volcanoes release gases. This world-first concept will be trialled at White Island using the double-hulled waka Ngahiraka Mai Tawhiti, and Māori youth and communities will be invited to participate in recording observations.
By combining modern technology with traditional knowledge, Dr Schipper and Dr Moussallam embrace the notion that, for people all around the Pacific, volcanic hazards and their effects on climate are 'He waka eke noa' or 'the canoe we are all in together'. This work will help to identify potentially hazardous volcanoes in Melanesia, many of which are currently unmonitored. The findings will also increase our understanding of the environmental impacts of volcanic gasses and help create better models of our changing global climate.