Mapping Niue writing in and beyond Aotearoa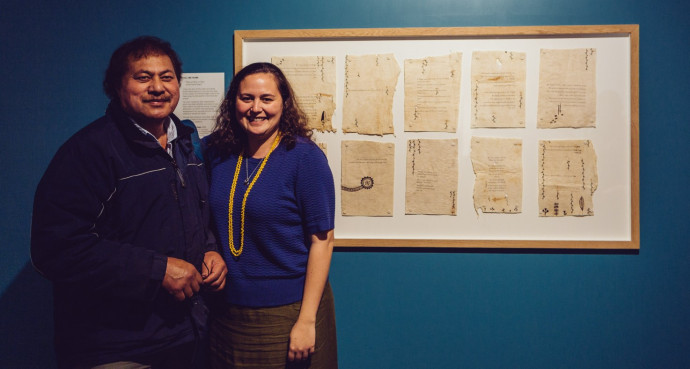 Dr Jess Pasisi with her father, Ben Pasisi. Photo: Supplied.
Dr Jessica Pasisi, Niue (Mutalau, Hikutavake), Pālagi, Ngāti Pikiao, Tahiti from Te Whare Wānanga o Ōtākou University of Otago ultimately seeks to explore the pleasure that tau tagata Niue, Niue people, gain from engaging with Niue writing
Published on 3 Whiringa-ā-rangi November 2022
Tau tagata Niue find joy as avid readers, writers and translators. But the importance of writing in vagahau Niue, the language of Niue, has yet to be fully explored and celebrated through research. The bookshelf of Niue literature is significant, yet there is currently no published work that engages with a number of these key texts. Locating and giving context to these Indigenous tāoga draws attention to the Indigenous knowledge and foresight that created them. This is an opportunity to explore the joy and pleasure tau tagata Niue gain from writing and reading Niue texts, how knowledge and experience is shared, and how vagahau Niue is used and maintained.
Over the course of this Marsden Fund Fast-Start project, Dr Pasisi will catalogue and critically analyse Niue texts from throughout recorded history and examine how tau tagata Niue engage with Niue texts in contemporary repositories. This research will expand our understanding of Indigenous literary connections between Niue and Māori, New Zealand Realm nations (Aotearoa, Niue, Tokelau and the Cook Islands), and broader global Indigenous communities. Understanding how Niue literary communities link with other Indigenous literary communities can give insight into shared struggles and successes.
Dr Pasisi will examine major contemporary repositories of Niue published written texts in Aotearoa and Niue, analysing the context of where these texts are located, including tracing why and how particular texts came to be published. To explore Niue texts as a wider part of cultural self-expression, a series of workshops will be held to engage with a broader audience. Dr Pasisi will co-lead these publicly accessible workshops with tau tagata Niue artists and writers.
This study will enhance our understanding of Niue Indigenous texts and contemporary engagement with them. Writing, thinking, and scholarly contributions from Niue are integral contributions to the fields of New Zealand history, Pacific Studies and Pacific literature in Aotearoa. As the direction of the New Zealand school curriculum moves to be more deliberate and intentional about the inclusion of Pacific histories, knowledge and languages, there is an urgent need for this critical engagement with the wealth and abundance of Indigenous texts and thinking that is located in repositories across the country.