Flying the flag in the darkest caves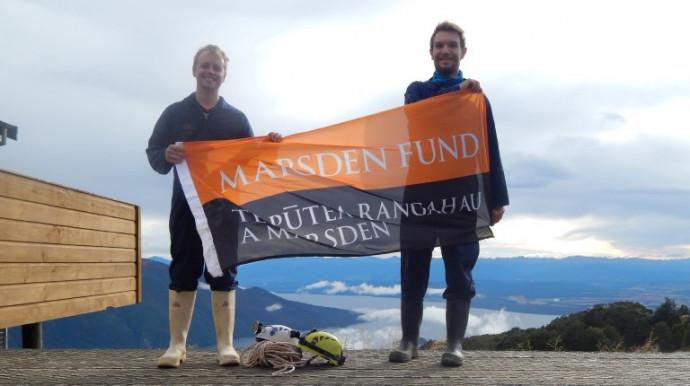 Dr Adam Hartland and Andrew Pearson on Luxmore Hut helipad Lake Te Anau in background

Posted: Fri, 27 Jan 2017
Dr Adam Hartland from the University of Waikato's department of Science and Engineering is using tiny concentrations of metals found in speleotherms and lake sediments to help shed light on changes in the terrestrial carbon cycle. These metals will provide Dr Hartland and his team, which includes PhD student Andrew Pearson and researchers from GNS and the University of Melbourne, with valuable information on the amount and composition of the organic carbon dissolved in lake and underground waters in our past.
This research aims to improve our understanding of the factors that play a role in the release of such carbon from soil, which in turn will help us to understand the role climate plays on dissolved organic carbon export on historic and pre-historic timescales. 
Below is a photo collection of Adam and Andy sourcing samples for analysis and flying the Marsden Fund flag during field trips around and under New Zealand. This work is funded by a Marsden Fund Fast-Start grant (contract UOW1403).