Mud, Mangroves, and the Marsden Flag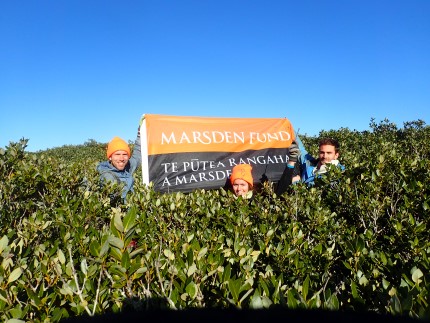 Erik Horstman, Rebekah Haughey and Dean Sandwell surveying the vegetation in the Firth of Thames mangrove forest
Posted: Mon, 30 Jan 2017
Accompanied by Associate Professor Karin Bryan and Dr Julia Mullarney, the Marsden Fund Flag ventured deep into the mangrove swamps of the Hauraki Gulf.
Mangrove swamps are one of the world's most effective carbon-burial ecosystems, yet they are declining worldwide.
In collaboration with Associate Professor Stephen Henderson from Washington State University and Postdoctoral Fellow Erik Horstman,  Karin and Julia are studying the effects that Mangroves have on the flow of the surrounding seawater and sediment in an attempt to better understand the cause of their demise.
Mangrove trees spread seaward by establishing seedlings and roots, which in turn alters the hydrodynamics of the surrounding water. Depending on their density, these structures can enhance or reduce sediment supply to the swamp, with implications for the swamps survival. To date, the complexity of the flow in these environments has confounded the ability of numerical models to accurately estimate the flow of seawater and thus the sediment budget.
Focusing on sediment movement at the mangrove canopy-fringe boundary, this project (Marsden Fund contract UOW1402) ultimately aims to determine how subtle variations at this boundary control the mangroves ability to establish and grow.
Below is a photo gallery of the research team deploying current profilers, sediment traps, and other scientific equipment in the field.