About the award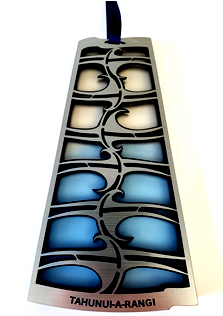 Background of the award
"Looking beyond what we know or understand. Seeking that which is yet unknown."
The Tahunui-a-Rangi award for invention and creation was first awarded in 2020, with the support of Callaghan Innovation. The name Tahunui-a-Rangi was chosen for the new award. It translates as "Great Glowing of the Sky", and although linked with Aurora Australis, it also describes aurorae in general.
Medal design
The medal was designed by Ross Hemera, former Professor of Māori Art and Design for Massey University. In reference to the name, the design acknowledges the luminosity of the Southern sky. In this instance, the design is inspired by the notion of movement and innovation. In this manner, the design uses acrylic material to enhance the translucency of light. Following this theme, the imagery in the design celebrates ngā rangi tūhāhā – the separately spaced heavens as portrayed in twelve bird figures. This award uses a perforated structure to further enhance lightness and atmosphere.