A Grammar and Vocabulary of the Language of New Zealand -Thomas Kendall and Samuel Lee (1820)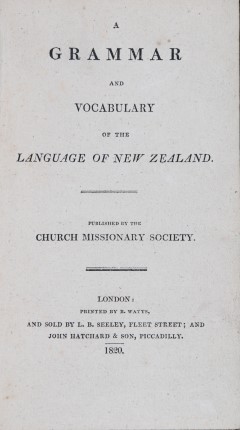 This 1820 publication worked on at Cambridge University with Ngāpuhi rangatira Hongi Hika, Thomas Kendall, Samuel Lee and others is a significant Te Takarangi book worthy of celebration. It is the first widely published Māori language publication and well ahead of its time and can be seen as the first Māori international research collaboration
Publication details
Kendall, T. and S. Lee. A Grammar and Vocabulary of the Language of New Zealand. London, UK: Church Missionary Society, 1820
About the book
The first attempts to teach literacy to Māori were made during the early nineteenth century period when Reverend Samuel Marsden arrived in the Bay of Islands in 1814 with pioneer missionary Thomas Kendall. Kendall was commissioned by the Church Missionary Society (CMS) to develop an orthography of the Māori language and after settling at Rangihoua Pā, Kendall complied A Korao no New Zealand in 1815 with considerable help from Ngāpuhi rangatira Hongi Hika and his nephews Tuai and Tetere. In 1820 Kendall accompanied Hongi Hika and Hohaia Parata Waikato to London where they worked with linguist Professor Samuel Lee at Cambridge University to compile A Grammar and Vocabulary of the Language of New Zealand.
The importance of an orthography of the Māori language for the CMS was significant. By developing written conventions for an oral language, the CMS could make scriptures available to Māori in their own language, Māori would then be able to read the bible and conversion to Christianity would be made easier. However, in this early period for this to occur, missionaries such as Kendall needed to first learn to speak Māori.
In New Zealand Kendall enthusiastically applied himself to learning te reo Māori and as such was able to recognise the complex inter-relationship of language and spiritual identity in the Māori world and through te reo Maori he sought to understand Maori conceptualisations of the universe. Kendall found Māori to be intelligently questioning of Christianity and in Hongi Hika he found a man of great personal charm and integrity. Over time this insight into the Māori world would ultimately cause Kendall to question the Christian mission and have a personal crisis of faith. Kendall eventually fell out with Reverend Marsden and the other missionary settlers who became increasingly hostile to the changes in Kendall from 'Christian to Heathen'.
This 1820 publication worked on at Cambridge University with Hongi Hika and others is a significant book to celebrate. It is the first widely published Māori language publication and well ahead of its time, can be seen as the first Māori international research collaboration.
Further information
This publication is part of the series Te Takarangi: Celebrating Māori publications - a sample list of 150 non-fiction books produced by a partnership between Royal Society Te Apārangi and Ngā Pae o te Māramatanga.