Critical conversations in kaupapa Māori – Te Kawehau Hoskins (2017)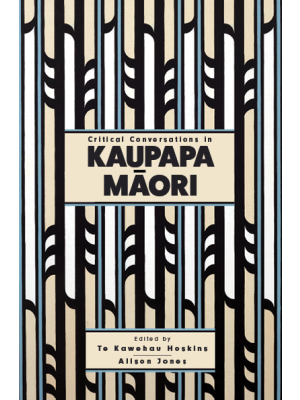 This book provides a timely opportunity to examine Kaupapa Māori in order to invigorate engagement and extend its productive possibilities.
Publication details
Hoskins, T. K. Jones. A. (Eds) Critical conversations in kaupapa Māori. Wellington, New Zealand: Huia, 2017.
About the book
Kaupapa Māori theory and methodology developed over twenty years ago and have since become influential in social research, practice and policy areas. Dr Te Kawehau Hoskins (Ngāpuhi) and Professor Alison Jones bring together this collection exploring kaupapa Māori and examining its effects over the decades, identifying and discussing its conventions and boundaries and reflecting on kaupapa Māori in social and educational research and practice.
Critical conversations in kaupapa Māori contains essays from twelve researchers, scholars and writers including Brad Coombes, Garrick Cooper, Mason Durie, Carl Mika, Te Ahukaramū Charles Royal, Graham Hingangaroa Smith, Linda Tuhiwai Smith, Alice Te Punga Somerville, Georgina Stewart and Tamasailau Suaalii-Sauni, along with the collection editors. Each chapter casts a critical eye over the effects of Kaupapa Māori and who use positive critique to open up discussion about the limits of and possibilities for Kaupapa Māori theory.
Further information
This publication is part of the series Te Takarangi: Celebrating Māori publications - a sample list of 150 non-fiction books produced by a partnership between Royal Society Te Apārangi and Ngā Pae o te Māramatanga.