He Reo Wāhine: Māori Women's Voices from the Nineteenth Century - Lachy Paterson and Angela Wanhalla (2017)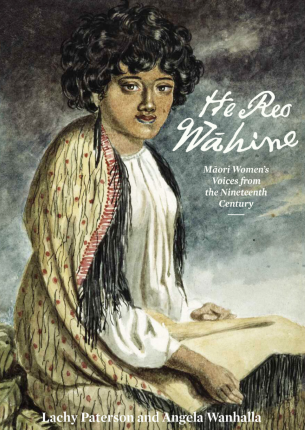 'He Reo Wāhine' details Māori women's experiences and views of colonialism in their own words and is the first monograph to focus solely on Māori women's writing in the colonial era.
Publication details
Paterson, L. and A. Wanhalla. He Reo Wāhine: Māori Women's Voices from the Nineteenth Century. Auckland: Auckland University Press, 2017.
About the book
During the nineteenth century, Māori women produced letters and memoirs, wrote off to newspapers and commissioners, appeared before commissions of enquiry, gave evidence in court cases, and went to the Native Land Court to assert their rights. He Reo Wāhine is a bold new introduction to the experience of Māori women in colonial New Zealand through Māori women's own words – the speeches and evidence, letters and testimonies that they left in the archive.
Associate Professor Lachy Patterson and Associate Professor Angela Wanhalla (Ngai Tahu) both from the University of Otago, draw their extensive research from over 500 texts in both English and te reo Māori written by Māori women themselves, or expressing their words in the first person through letters, petitions, legal documents, speeches and testimonies.
He Reo Wāhine explores the range and diversity of Māori women's concerns and interests, the many ways in which they engaged with colonial institutions, as well as their understanding and use of the law, legal documents, and the court system.
Further information
This publication is part of the series Te Takarangi: Celebrating Māori publications - a sample list of 150 non-fiction books produced by a partnership between Royal Society Te Apārangi and Ngā Pae o te Māramatanga.