He Tipua: The Life and Times of Sir Āpirana Ngata—Ranginui Walker (2001)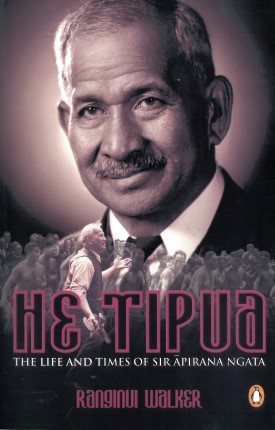 He Tipua is Ranginui Walker's biography of Māori leader Sir Āpirana Ngata. The book explores the huge impact Ngata had on the social, cultural, economic and political landscape of New Zealand, creating a new path of reconciliation between Māori and Pākehā.
Publication details
Walker, R. He Tipua: The Life and Times of Sir Āpirana Ngata. Auckland: Viking, 2001.
About the book
In He Tipua, Ranginui Walker locates Sir Āpirana Ngata's life firmly and elaborately within its Māori context. The family and tribal background to his ambitions and achievements is comprehensively explored together with the nature of Ngati Porou's associations with education, Christianity and support of the Armed Constabulary. He analyses this as a strategy for survival and development, and he makes clear the nuances of its effect on the culture of Ngāti Porou.
Walker presents a clear account of the nature of the Young Māori Party coalition of interests and presents an informed account of Ngata's time as Native Minister and the events that led to his resignation from that position. Walker's in-depth research reveals that Ngata's talents and ambitions covered an even wider canvas of Māori and public life than what was previously known; providing a comprehensive picture of Ngata's life and the physical and emotional resources that enabled him to lead and achieve over such a broad range of activities.
The very title of the book, He Tipua, is an indication of the profoundly rooted Māori perspective from which it grows. "Tipua" implies a form of supernatural spirit, a person who has become larger and more powerful than those around him. It is the perfect term to encapsulate Ngata's charisma and the pervasiveness of his influence, not simply within Ngāti Porou, but within the wider Māori world and New Zealand society.
Further information
This publication is part of the series Te Takarangi: Celebrating Māori publications - a sample list of 150 non-fiction books produced by a partnership between Royal Society Te Apārangi and Ngā Pae o te Māramatanga.