Hongi Hika: Warrior Chief – Dorothy Urlich (2003)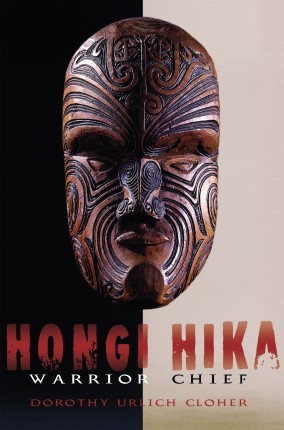 This striking book written by a kinswoman of Hongi Hika's is an important biography of one of the great figures in New Zealand history.
Publication details
Urlich Cloher, D. Hongi Hika: Warrior Chief. New Zealand, Penguin: 2003.
About the book
Hongi Hika is a man with a difficult legacy. He's one of the greatest figures in New Zealand history, but he's also often held responsible for starting the Musket Wars. During the years of early European settlement, Hongi Hika led Ngāpuhi on devastating raids during the Musket Wars. Thousands of Māori were killed using the new weapons, and tribal power balances were radically altered.
However, Hongi was not exclusively a man of war. At home he was a mild, gentle and courteous man; supervising the planting and harvesting and working alongside his people with their fishing nets.
In this biography of Hongi Hika, Dorothy Urlich (Ngāpuhi) portrays Hongi as a warrior, leader, a visionary and a strategist as well as a husband, an artist and an advocate for his people as well as a worker of his land
Further information
This publication is part of the series Te Takarangi: Celebrating Māori publications - a sample list of 150 non-fiction books produced by a partnership between Royal Society Te Apārangi and Ngā Pae o te Māramatanga.