Makereti: Taking Māori to the World—Paul Diamond (2007)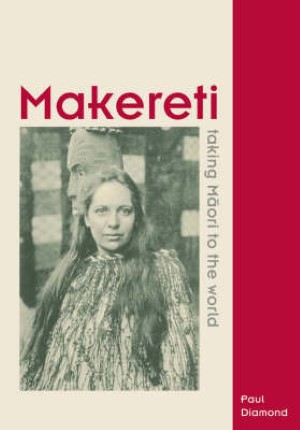 Today's book is a poignant biography of one of New Zealand's first international media celebrities, Makereti (1873–1930).
Publication details
Diamond, P. Makereti: Taking Māori to the World. Auckland: Random House New Zealand, 2007.
About the book
Makereti: Taking Māori to the World exemplifies the life of Margaret Thom, Makareti or Maggie Papakura as she was also known, a tribal member of Tuhourangi who lived and grew up in Whakarewarewa, the small thermal village in Rotorua. Makereti was a trailblazer in the tourism industry in New Zealand. She portrayed her life in the village in such a way that early travellers took great interest in Māori culture, in performing arts, artefacts and the lifestyles of Māori in a geothermal landscape. In due course she married, moved to England and studied at Oxford University, sadly passing away just before her MA dissertation was examined.
Author Paul Diamond (Ngāti Haua, Te Rarawa, Ngāpuhi) explores Makereti's remarkable achievements and portrays Makereti as a leader of her time, a role model for New Zealand and an entrepreneur who 'made it' overseas. Diamond illustrates how Makereti utilised the technology of her time to communicate Māori culture. Many of the photographs show the carvings and artefacts she took on her travels and donated to museums around the world. The biography captures the essence of Makereti's life and the many identities she embodied.
Diamond has brought together a well-researched biography with carefully chosen photographs of Makereti's life. The book is set out in chronological order of her life, beginning with a brief context of New Zealand's early colonial history. The text merges with extensive illustrations, mostly photographs of Makereti as a tour guide or with family members. Diamond's research not only produced a book but was also used for both an on-line and a gallery exhibition at the National Library.
Further information
This publication is part of the series Te Takarangi: Celebrating Māori publications - a sample list of 150 non-fiction books produced by a partnership between Royal Society Te Apārangi and Ngā Pae o te Māramatanga.