Mana Tuturu: Māori Treasures and Intellectual Property – Barry Barclay (2005)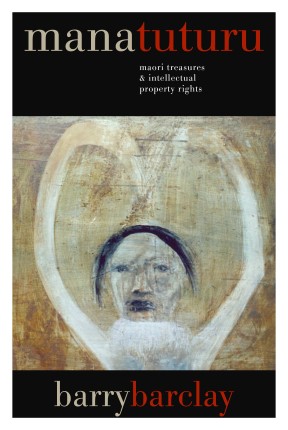 'Mana Tuturu' is a meditation on the complex and difficult problems that arise when the treasures of indigenous peoples, especially Māori, enter the commercial world.
Publication details
Barclay, B. Mana Tuturu: Māori Treasures and Intellectual Property. Auckland: Auckland University Press, 2005.
About the book
Barry Barclay (1944–2008; Ngāti Apa) draws on his long experience as a filmmaker, often depicting Māori subjects, to conduct a hui, or public forum, to suggest ways in which two worlds, each important, can meet.
Barclay is best known as a filmmaker, his first big milestone was the 1974 documentary series Tangata Whenua, which broke the monocultural media mode, giving Māori an opportunity to speak of their experiences. Barclay's 1985 documentary The Neglected Miracle was a prescient study of the erosion of plant genetic diversity in the Third World by seed companies working for first-world profit; Ngāti (1987) was the first feature film by a Māori director; and Te Rua (1991) was a raw and uncompromising drama on the question of ownership and control of indigenous artefacts.
Mana Tuturu is thus an extension of his filmmaking work, further exploring the notion that "we have in this country a rich indigenous legal tradition that is neither extinct nor extinguished". Barclay's eloquence went beyond the screen with Mana Tuturu winning praise for its exploration of indigenous rights.
Mana Tuturu is a guide in the areas of film and television, libraries, archives and museums, jurisprudence and ethics; but beyond that it is an important book for anyone concerned about the culture of contemporary New Zealand, or any post-colonial country.
Further information
This publication is part of the series Te Takarangi: Celebrating Māori publications - a sample list of 150 non-fiction books produced by a partnership between Royal Society Te Apārangi and Ngā Pae o te Māramatanga.