Māori Architecture: From Fale to Wharenui and Beyond—Deidre Brown (2009)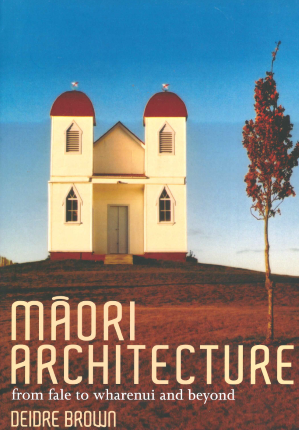 'Māori Architecture' charts, for the first time, the genesis and form of Indigenous buildings in Aotearoa New Zealand, exploring Māori-designed structures and spaces—how they evolved over time from Pacific roots, telling the story of an identifiably unique Māori culture.
Publication details
Brown, D. Māori Architecture: From Fale to Wharenui and Beyond. Auckland: Raupo, 2009.
About the book
Dr Deidre Brown (Ngāpuhi, Ngāti Kahu, Te Aupouri, Te Rarawa) explores the history of Māori architecture presented in a series of seven chapters, the connecting thread being that "Māori persistently built and rebuilt their world to meet the challenges of the natural, spiritual, political and colonial environments."
The book explores the vast array of Māori-designed structures and spaces and how they evolved over time, covering; early Polynesian settlement and adaption to a new land, the world-changing influx of Europeans and the influence of Christian and western technology, the buildings of religio-political movements such as Ringatū, Parihaka and Rātana, post-war urban migration and the growth of urban marae, the proliferation of wharenui meeting houses for pan tribal forums, the recapturing of traditional arts and contemporary architecture.
Māori Architecture is lavishly illustrated with over 130 photos and artworks - all providing a fascinating survey of an important aspect of New Zealand culture and history.
Winner of Nga Kupu Ora Art, Architecture and Design Book Award 2009.
Shortlisted for New Zealand Post Book Awards: Illustrated Non-Fiction 2010.
Further information
This publication is part of the series Te Takarangi: Celebrating Māori publications - a sample list of 150 non-fiction books produced by a partnership between Royal Society Te Apārangi and Ngā Pae o te Māramatanga.