Maranga Mai! Te Reo and Marae in Crisis?—Merata Kawharu (Ed.) (2014)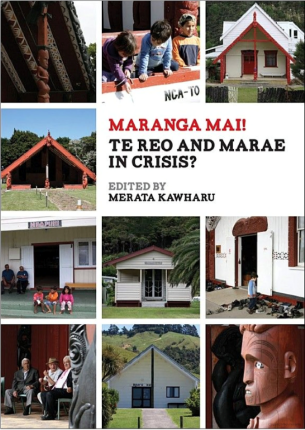 Focusing on Tai Tokerau as a case study, 'Maranga Mai!' asks what the future is for Māori culture.
Publication details
Kawharu, M. (Ed.) Maranga Mai! Te Reo and Marae in Crisis? Auckland: Auckland University Press, 2014.
About the book
From the time of the Māori renaissance of the 1970s and 1980s, Māori made huge efforts to reinvigorate te reo and the life of marae as the twin cornerstones of Māori identity. Māori television and radio stations were set up, the Māori Language Commission established and kōhanga reo, kura kaupapa and wananga emerged. Old marae gained new coats of paint and new marae were established on sites ranging from urban university campuses to rural communities. In Maranga Mai! Merata Kawharu (Ngāti Whatua, Ngāpuhi) brings together a range of voices who question whether these efforts have really worked, are te reo and marae in crisis?
Focusing on Tai Tokerau, the northern region of New Zealand, as a case study but with conclusions applicable across the country, the leading Māori scholars and elders in Maranga Mai! call for their people to wake up to these challenges. Through stories and statistics, demography and policy, they identify the key issues and pose potential solutions.
Further information
This publication is part of the series Te Takarangi: Celebrating Māori publications - a sample list of 150 non-fiction books produced by a partnership between Royal Society Te Apārangi and Ngā Pae o te Māramatanga.