Ōpōtiki-Mai-Tawhiti: Capital of Whakatōhea—Ranginui Walker (2007)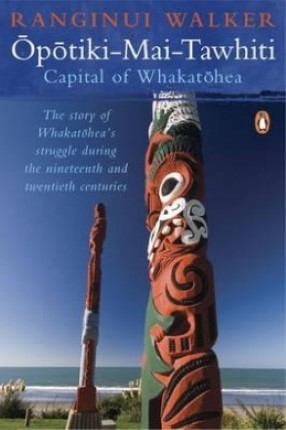 Professor Ranginui Walker (Whakatōhea, 1932-2016) writes with scholarly insight about the history of his own iwi, Whakatōhea of Ōpōtiki. Walker explores the epic events of the nineteenth century and the tribe's subsequent struggle for social justice.
Publication details
Walker, R. Ōpōtiki-Mai-Tawhiti: Capital of Whakatōhea. Auckland: Penguin Books, 2007.
About the book
Ōpōtiki-Mai-Tawhiti is a history rich in scholarship, which manages to document the epic journey of Whakatōhea from the Musket Wars in the early 1820s, their experience of land confiscation, of military invasion, of devastation through to their persistent and painful struggle for social justice.
Ōpōtiki-Mai-Tawhiti is also a history of entrepreneurial vitality of those who endured, to conduct a greatly stimulated economy. Two small ships were purchased by Whakatōhea. Ngāti Rua purchased a schooner which they named Hokopoaka, after the pigs that were used to pay for it. Ngāti Rua then went on to trade six huahua with Ngāti Rangitihi of Te Arawa for six canoes. This remarkable history of enterprise is described as dominating trade in the Bay of Plenty for over a decade. Walker also skilfully draws out that economic success without political authority – rangatiratanga - is a life without any real security, and inevitably in 1865, a military invasion destroys Whakatōhea's vital economy.
Ōpōtiki-Mai-Tawhiti is also a history of an iwi's struggle for social justice. Walker explores the events leading up to the killing of German missionary Carl Volkner at Opotiki on 2 March 1865 which resulted in the wrongful imprisonment and death of Whakatōhea chief Mokomoko and the confiscation of 144,000 acres of land around Opotiki. In 1993, Justice Minister Doug Graham delivered an apology to Te Whakatōhea along with an official pardon of Mokomoko. In 1996, the New Zealand Government signed a Deed of Settlement acknowledging and apologising for the wrongful invasion and confiscation of Te Whakatōhea lands and subsequent economic, cultural and developmental devastation suffered by the iwi. Settlement of the Whakatōhea claim before the Waitangi Tribunal is still pending.
Further information
This publication is part of the series Te Takarangi: Celebrating Māori publications - a sample list of 150 non-fiction books produced by a partnership between Royal Society Te Apārangi and Ngā Pae o te Māramatanga.