State of the Māori Nation: Twenty-first-century issues in Aotearoa – Malcolm Mullholland (Ed) (2006)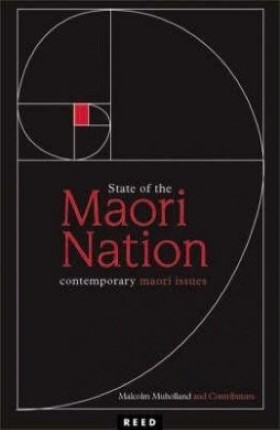 State of the Māori Nation reflects the momentum and determination for change in the first decade of twentieth century Aotearoa.
Publication details
Mulholland, M. (Ed.) State of the Māori Nation: Twenty-first-century issues in Aotearoa. Auckland: Reed Books, 2006.
About the book
This anthology chronicles Māoridom's enormous range of customs, beliefs and talents that are important not just for the people of Aotearoa, but across the globe. The chapters provide reports and articles that take stock of where we as Māori have been, what we are doing now and where we might be heading.
The experiences and ideologies contained within this book demonstrate that Māori knowledge is both relevant and appropriate for the ongoing advancement of Aotearoa. A range of authors express common themes throughout the book including; understanding concepts from our past in the hope that we can transpose them into a modern context; the impact of colonisation; the positive influence of the protest movement; the need for Māori to improve in all areas from sport to science; and the quest for more control regarding our affairs.
Malcolm Mulholland (Ngāti Kahungungu) brings together the work from a broad range of writers such as: Prof Margaret Mutu, Prof Bob Jankhe, Prof Linda Tuhiwai-Smith, Mark Solomon, Te Rita Papesch, Sharlene Davis, Graham Harris, Percy Tipene, Reina Whaitiri-Kaitahu, Jessica Hutchings, Judge Ken Hingston, Hareruia Aperahama, Pauline Harris, Ocean Mercier, Hana O'Regan, Potaua Biasiny-Tule, Farah Palmer, Debra Rewiti, Matiu Dixon, Cherryl Smith, Maureen Waaka, Clive Aspin and Matanuku Mahuika.
Further information
This publication is part of the series Te Takarangi: Celebrating Māori publications - a sample list of 150 non-fiction books produced by a partnership between Royal Society Te Apārangi and Ngā Pae o te Māramatanga.