Te Mātāpunenga: A Compendium of References to the Concepts and Institutions of Māori Customary Law - Richard Benton, Alex Frame and Paul Meredith (Eds) (2013)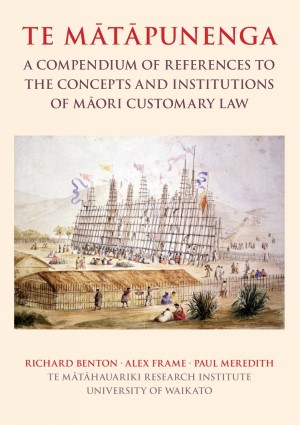 Te Mātāpunenga gives in-depth insight into Māori customary law exploring terms and concepts as they are recorded in traditional accounts and historical records, along with modern interpretations that have been recognised or modified by the legislative and judicial branches of the New Zealand government since 1840.
Publication details
Benton, R., A. Frame and P. Meredith (Eds). Te Mātāpunenga: A Compendium of References to the Concepts and Institutions of Māori Customary Law. Wellington: Victoria University Press, 2013.
About the book
For New Zealand to have a legal system that reflects the best of the values and principles of its two major component cultures, the historical legal practices of both need to be understood. The New Zealand legal system has always had the ability to recognise aspects of tikanga Māori.
Te Mātāpunenga, a collection of key Māori legal concepts, has the potential to support the recognition of Māori law within the New Zealand legal system. As a compendium, Te Mātāpunenga is made up of entries, organised alphabetically, each addressing a key concept or practice within Māori customary law. Each entry contains a range of usage examples which demonstrate the concept in question. These are preceded by an entry guide. The guide is extremely useful for understanding the context and development of a Māori concept as well as obtaining an overview, providing an authoritative point of reference.
Te Mātāpunenga had its origins at the University of Waikato through the Te Mātāhauariki Research Institute. Its authors, Professor Alex Frame, Dr Richard Benton and Paul Meredith (Ngāti Maniapoto) were based at the institute when the project began in 1999.
Further information
This publication is part of the series Te Takarangi: Celebrating Māori publications - a sample list of 150 non-fiction books produced by a partnership between Royal Society Te Apārangi and Ngā Pae o te Māramatanga.