Te Mura o te Ahi: The Story of the Māori Battalion—Wira Gardiner (1992)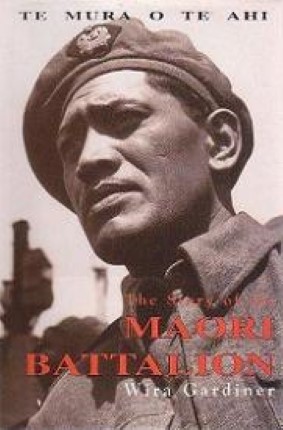 Te Mura o te Ahi brings to life the valiant endeavours of a generation of Māori soldiers fighting against fascism far from their home communities.
Publication details
Gardiner, W. Te Mura o te Ahi: The Story of the Māori Battalion. Auckland: Reed, 1992.
About the book
In Te Mura o te Ahi, Wira Gardiner (Ngāti Awa, Ngāti Pikiao, Whakatōhea, Te Whanau-Ā-Apanui) recounts the story of the Māori Battalion, from its early beginnings to its eventual disbandment. The book sets out to portray how Māori soldiers coped with the pressures on and off the battlefield during the Second World War. In this way Gardiner explores the lives, tragedies, humour, savagery and outstanding bravery of the Māori soldiers. The Battalion produced a number of outstanding individuals whose exploits have passed into legend, and several leaders who made an unforgettable impression on their men.
Wira Gardiner interviewed several of the surviving veterans, whose personal accounts and photographs add a note of authenticity to the narrative. Of particular note are Gardiner's insights into the Battalion's military engagements and strategies, based on his own war experiences.
Further information
This publication is part of the series Te Takarangi: Celebrating Māori publications - a sample list of 150 non-fiction books produced by a partnership between Royal Society Te Apārangi and Ngā Pae o te Māramatanga.