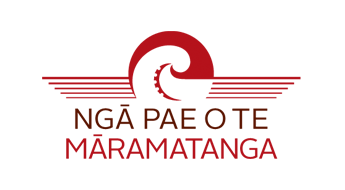 Te Takoto o te Whenua o Hauraki: Hauraki Landmarks – Taimoana Turoa (2000)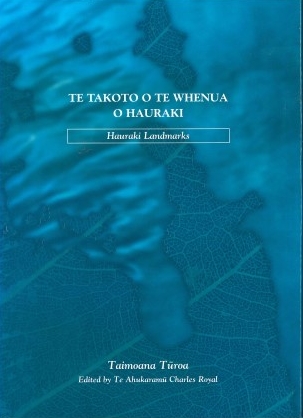 This book is a major publication that represents many years of scholarly and field research by the late Taimoana Turoa (Whanganui and Ngāti Tamaterā). Te Takoto o te Whenua o Hauraki is a history of both the iwi and places in Hauraki.
Publication details
Turoa, T. Te Takoto o te Whenua o Hauraki: Hauraki Landmarks. Auckland: Reed Books, 2000.
About the book
Following in the tradition of the great tribal histories, Te Takoto o te Whenua o Hauraki: Hauraki Landmarks unfolds the long history both of the Māori peoples and the landscapes of the Hauraki region. After Tūroa's untimely death in 1998, the book was brought to completion by his nephew, Te Ahukaramū Charles Royal (Ngāti Raukawa, Ngāti Tamaterā and Ngāpuhi).
The Hauraki tribal district encompasses the entire Coromandel Peninsula as far south as Katikati, the Hauraki Plains, the lands bordering the Hauraki Gulf (taking in the east coast of Auckland as far north as Cape Rodney) and the islands of the Gulf, including Rangitoto, Hauturu (Little Barrier) and Aotea (Great Barrier). The area is home to the Parehauraki tribes, many of which are sub-tribes of Tainui. The first part of the book gives a concise and readable history of that settlement process at it has continued into the modern era. The heart of the work is the alphabetical compendium of landmarks in the Hauraki region. Each entry contains a description of the type, location and map reference of the place; its tribal area; a translation of the name; and, for places of special significance, an account of events associated with it. In the appendices, Charles Royal expands on Taimoana's work to relate histories of Hauraki taniwha and tupua. Whakapapa are included throughout the book, with an appendix of additional whakapapa. The final appendix contains ten detailed maps of the region, and further maps are featured throughout the text. Historical and contemporary photos of major places and personages in the history of the Parehauraki people are similarly featured in all sections of the book.
Further information
This publication is part of the series Te Takarangi: Celebrating Māori publications - a sample list of 150 non-fiction books produced by a partnership between Royal Society Te Apārangi and Ngā Pae o te Māramatanga.