Terror in our midst? Searching for terror in Aotearoa New Zealand – Danny Keenan (2008)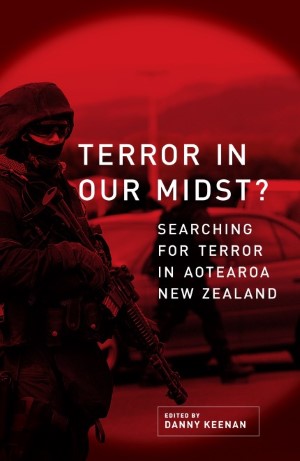 This book contains critical essays by Māori and Pākehā from a range of backgrounds that confront and explore the terror of the raids carried out across New Zealand on 15 October 2007.
Publication details
Keenan, D. (Ed.) Terror in our midst? Searching for terror in Aotearoa New Zealand. Wellington: Huia Publishers, 2008.
About the book
On 15 October 2007, New Zealand police swept through a number of locations in New Zealand, dressed in full riot gear, carrying machine guns and handguns, ostensibly searching for material to support charges under the Terrorism Suppression Act 2002. Following an investigation by the Solicitor General, no charges were brought under this Act.
Edited by Dr Danny Keenan (Ngāti Te Whiti Ahi Kā, Te Ātiawa) this book brings together contributors from a range of disciplines who felt strongly that they had something to add to the debate about the role and function of Government and New Zealand police in the age of 'war on terror'. The views expressed cover the full spectrum of academic fields, examining coercive policing, failure to demonstrate responsiveness to Māori, the woeful responses by most MPs to the raids, the criminalising of activism and dissent in New Zealand, fatal flaws in news media coverage and the insidious language of terror.
Further information
This publication is part of the series Te Takarangi: Celebrating Māori publications - a sample list of 150 non-fiction books produced by a partnership between Royal Society Te Apārangi and Ngā Pae o te Māramatanga.