The Fourth Eye: Māori Media in Aotearoa New Zealand—Brendan Hokowhitu and Vijay Devadas (Eds) (2013)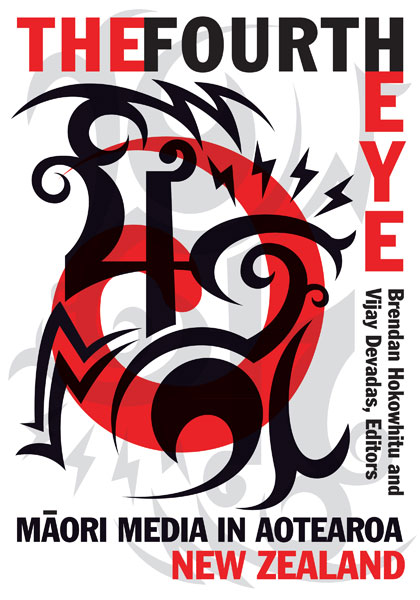 The Fourth Eye brings together indigenous and non-indigenous scholars to provide a critical and comprehensive account of the intricate and complex relationship between the media and Māori culture.
Publication details
B. Hokowhitu and V. Devadas (Eds). The Fourth Eye: Māori Media in Aotearoa New Zealand. Minneapolis, USA: University of Minnesota Press, 2013.
About the book
As the first publication of its kind (at the time of publication) on indigenous media in Aotearoa this collection provides a fresh approach to the fields of Media Studies and Indigenous Studies. The Fourth Eye contributes to both fields by drawing upon key debates, concepts, and theoretical approaches that mark them, while suggesting that each discipline has much to offer an emerging field of Indigenous Media Studies.
The Fourth Eye is a term used to capture a number of complex questions, experiences, responses, and articulations that emerge at the intersection of media culture and indigenous lives: what are the indigenous experiences of being the subject of the media gaze? How does the media capture, articulate, and rearticulate the lives of indigenous people? How do indigenous people use, transform, and tactically use the media to subvert certain modalities of power relations?
Examining the indigenous mediascape, The Fourth Eye shows how Māori filmmakers, actors and media producers have depicted conflicts over citizenship rights and negotiated the representation of indigenous people.
Further information
This publication is part of the series Te Takarangi: Celebrating Māori publications - a sample list of 150 non-fiction books produced by a partnership between Royal Society Te Apārangi and Ngā Pae o te Māramatanga.