The Journeys of Besieged Languages - Delyn Day, Poia Rewi and Rawinia Higgins (Eds), 2016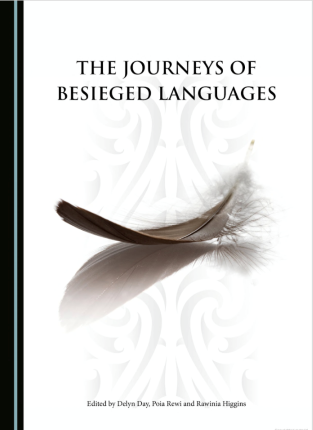 This book takes the reader on a journey around the world to hear the voices from languages that find themselves pushed to the peripheries and margins.
Publication details
Day, D., P. Rewi and R. Higgins (Eds). The Journeys of Besieged Languages. Cambridge: Cambridge Scholars Publishing, 2016.
About the book
The Journeys of Besieged Languages allows 13 besieged languages to tell their own stories by way of their consummate battles with languages that dominate their traditional spaces and ways of thinking. It tells of the value of these languages through linkages with the past and present and where continuation of this might further share those values with wider audiences beyond the current language users.
Dr Delyn Day, Professor Poia Rewi and Professor Rawinia Higgins (Editors) capture a discourse on the existence of minority languages in countries and states where they are under threat by the 'governing' language. The book primarily brings together contributors who are heritage speakers or descendants of the languages they discuss. The range of contributors do not speak from similar perspectives nor from one academic specialty; rather each writes from his/her own outlook, whether it be linguistic, historical, academic, cultural, as a language advocate, or based on personal experience.
Further information
This publication is part of the series Te Takarangi: Celebrating Māori publications - a sample list of 150 non-fiction books produced by a partnership between Royal Society Te Apārangi and Ngā Pae o te Māramatanga.