The story of a Maori Chief: Mokena Kohere and his forebears – Rewiti Kohere (1949)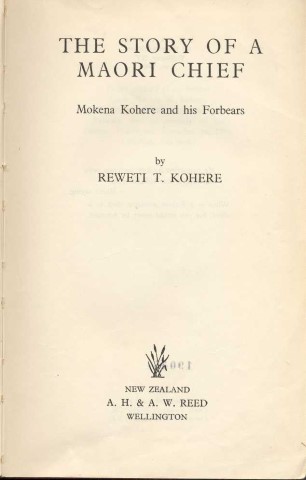 Reweti Kohere published the first biography written by a Māori in 1949, The Story of a Maori Chief is a biography of his grandfather, Mokena Kohere.
Publication details
Kohere, R. T. The Story of a Maori Chief: Mokena Kohere and his forbears. Wellington: A.W & A. H. Reed, 1949.
About the book
Author, Rewiti Kohere (1871-1954; Ngāti Porou) was a prolific writer and contributed articles to Te Kopara and Te Toa Takitini. He wrote articles for some 50 years for the Poverty Bay Herald and Te Ao Hou in both Māori and English. He was a very active correspondent with the Gisborne Herald. In the early issues of Te Ao Hou, Kohere published a number of articles on traditional Māori poetry and was the author of several books, including this one, The Story of a Maori Chief: Mokena Kohere and his forbears.
The Story of a Maori Chief is the life story of Kohere's grandfather, Mokena Kohere, a story that is set in the wider context of Ngāti Porou tribal narratives. The first four chapters of the book trace early tribal narratives and the emergence of Mokena Kohere as a young chief. Mokena Kohere's traditional expertise in cultivation and navigation is presented as a versatile set of skills that allows him to develop successful agricultural and commercial enterprises. Growing large scale wheat and maize, purchasing schooners and transporting produce to Auckland and Australia.
Further chapters include The Hauhau rising on the East Coast in 1865; accounts of Kohere descendants who fought in the first and second World Wars and the long litigation process of the Native Land Court pertaining to Kohere lands.
The book also includes a brief biographical sketch of the author, a simple lesson in Maori language pronunciation and a whakapapa table.
Further information
This publication is part of the series Te Takarangi: Celebrating Māori publications - a sample list of 150 non-fiction books produced by a partnership between Royal Society Te Apārangi and Ngā Pae o te Māramatanga.