Dr Paul Brown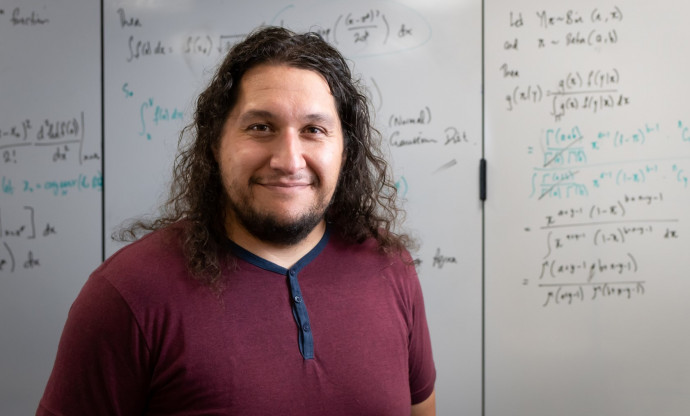 Whitinga presents opportunities for Dr Paul Brown (Tainui, Ngāti Hikairo), helping him to explore new research at the University of Waikato, School of Computing and Mathematical Sciences, and the Institute for Security and Crime Sciences.
---
Ngā mihi nui ki a koe
Ko Karioi toku māunga
Ko Kāwhia me Whaingaroa ōku Moana
Ko Tainui tōku waka
Ko Tainui me Ngāti Hikairo ōku Iwi
Kei te noho ahau ki Kirikiriroa
Ko Paul Brown tōku ingoa
My name's Paul Brown. I am a research fellow here at the University of Waikato, and I am a grateful recipient of the MBIE science Whitinga Fellowship.
---

Q. What is your research?
First and foremost, I identify as a statistician in the area of computational Bayesian methods and inference. I work a lot in statistical modelling, and I've done various projects involving police and trying to develop models for police to be able to use preventative methods of policing.
Q. What got you started in your research?
I was born and raised in Christchurch, where I worked in video game parlours for a few years before deciding to try University. I was planning to do a year at Waikato, but then I realised that I really loved it, and decided to stick around.
The statistical methods course was fun. It was theoretical, there was no real-world complexity there, until we actually had to analyse some datasets, and then it started to get really interesting. It made me realise that statisticians, data scientists, analysts and modellers have a lot of power – there are real world implications for our work.
I was fortunate to be guided by Associate Professor Stephen Joe and Dr Chaitanya Joshi in my PhD. They really helped me onto this early career research path.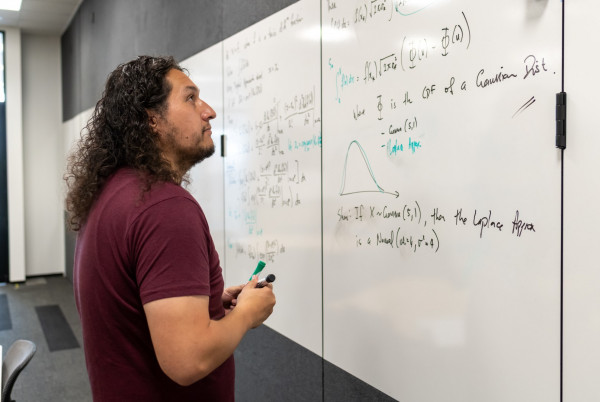 Q. What impact did Covid have?
When COVID hit, a lot of research opportunities dried right up. I was fortunate to be able to continue teaching - and the whole new experience of teaching virtually!
I had also started doing some work in the data sovereignty space with Te Kotahi and the Tikanga and Technology Group we have here at Waikato. This is around decolonising algorithms and the algorithmic bias work. But it was hard doing the research over COVID, especially with the increase in teaching workloads that brought. That's exactly when MBIE Science Whitinga Fellowship came up.
The work in the Māori data sovereignty space really helped with the application for the Fellowship. I knew I wanted to incorporate a lot of these ideas into my Whitinga research project, which looks at burglaries and modelling crimes. It's become a really important aspect of the mahi.
Q. How would you describe your Whitinga research?
My Whitinga research is a space time model of certain crimes that are related to one another. With residential burglaries, for instance, there's a lot of literature on what's called the 'near repeat victimisation phenomenon'. Basically, if one place gets hit in a burglary, it's likely that it will soon be hit again, or surrounding houses and neighbourhoods will be.
These kind of models are used overseas, but can lead to problems with over surveillance of certain communities. I hope that the models we're developing here can avoid the perpetuation of systemic biases, and are used for insights into crime patterns and developing different policing strategies that are more positive in the community.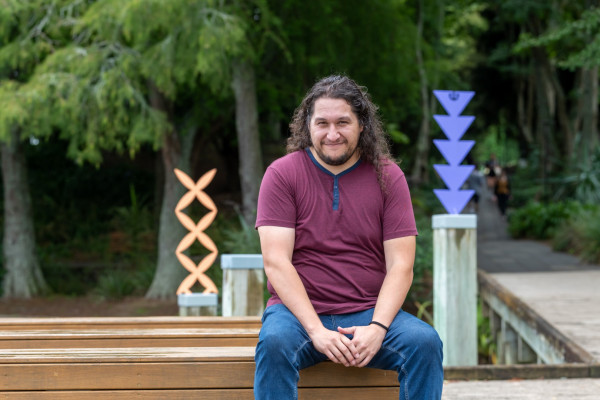 Q. Has the Whitinga made a difference in other ways?
I've been so thankful to be able to meet some great, amazing, super intelligent people who are as passionate as I am about statistics, data, ethics, and Indigenous research.
My current supervisor on the Whitinga Fellowship is Associate Professor Te Taka Keegan. He introduced me to the work on Māori data sovereignty and decolonising algorithms, and into the Tikanga and Technology work for Professor Tahu Kukutai and Associate Professor Maui Hudson. Working with them has been a really great experience.
The Whitinga Fellowship has opened a lot of doors in terms of being able to collaborate, especially with police. For example, I'm working alongside a large police project called Understanding Policing Delivery that is led by Tā Kim Workman. He's just an incredible person to talk to about the criminal justice system here in New Zealand.
On the back of this research, I was fortunate to attend the International Workshop of Statistical Modelling in Italy last year. There were some fantastic researchers there – basically meeting some of my heroes, you could say, in the statistical modelling space. It was a great conference to present my work at, and I received a lot of good feedback.
Q. What's next for your research?
It's been a great journey so far. I'm just on halfway through the two year Whitinga Fellowship, what I would like to do next is really progress.
This funding has given me the opportunity to grow into different areas, especially on the data ethics side of things and in statistical modelling.
And I'm so excited to be travelling to Arizona to meet with Indigenous researchers in the AI tech and data algorithm space at a conference there. So yes, lots of opportunities have opened up with this funding, which I'm very grateful for.
Working in research and on the things you really find important, that you feel can really make an impact, is so important.