News
Published 20 April 2020
Falling Walls Lab: One minute with Seer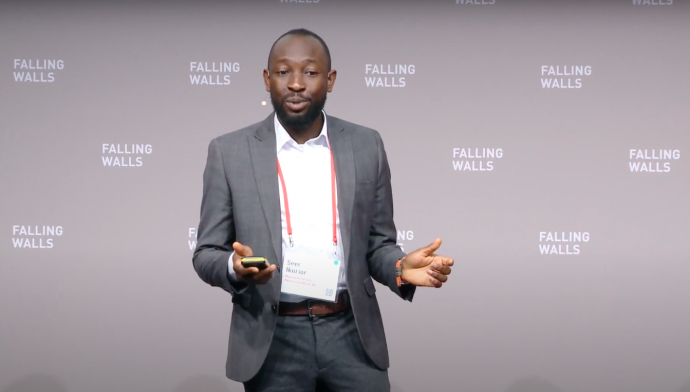 Seer presenting at Falling Walls Lab in Berlin.
2019 Falling Walls Lab New Zealand representative Seer Ikurior offers insight from his experience at Falling Walls Lab Finale, Berlin.
Seer is a PhD student at Massey University. He holds a Masters degree in Veterinary Public Health from the University of Glasgow and is a Nigerian-trained Veterinarian. Seer has spent many hours observing lambs and has found measurable differences in resting and grazing time between infected and non-infected lambs, making it possible to identify and treat just those lambs showing 'wormy behaviour'. He now uses ear-tag accelerometers and GPS monitoring devices to track grazing and movement as a marker for the level of parasitism. While his research to date has been on lambs, it is likely the approach could apply to other ruminant animals, including cows.
Seer won the inaugural Falling Walls Lab New Zealand event in Wellington in September 2019 and the opportunity to represent New Zealand at the Falling Walls Lab Finale in Berlin, for his research breaking down the wall of resistant worms.
What made you want to present at Falling Walls Lab?
I enjoy the art of science communication through story telling. Presenting at Falling Walls Lab offered a platform to do just that. The appeal to communicate my research on such a purposeful stage, defined by such a grand event (the fall of the Berlin Wall) was irresistible.
What was your experience at the Falling Walls Lab Finale and at the conference like?
"Massively enriching" is how I would summarise my Falling Walls experience. The atmosphere at the Falling Walls Lab Finale was electric; alongside me were 99 other innovators and researchers from around the globe there to present their "wall breaking" work and research. I realise it is cliché to say we all felt like winners, but that truly was the feeling in the room. Though I would have liked to place in the top three, it was incredibly inspiring to hear everyone speak and witness the contribution of science in solving real world problems.
The Falling Walls Lab and Conference also provided a unique networking experience wrapped in "brain dates". These were one-on-one or group sessions with government, business, academic and industry leaders where discussions were made around topics of common interest. These were simply invaluable both from the standpoint of access to such leaders, and the insights generated as discussions unfolded.
Did participating in Falling Walls Lab have a lasting impact on your working life?
Participating in Falling Walls has certainly impacted my work life. The very heart behind Falling Walls speaks of staying the course, pulling down barriers that seek to make us and our world less than we ought to be, and the amazing power we wield when we come together. The three themes: perseverance, challenging the status quo and collaborating with others have been hugely enhanced by my Falling Walls Lab experience.
What would your advice be to this year's Falling Walls Lab applicants?
Good art is meant to be shared and seen. So is good science. I think of the Falling Walls Lab as a science gallery, displaying the power of science to solve 21st century problems, big and small. The world is in dire need of science communication that inspires action. Nothing is too insignificant it cannot be shared. Lend your work and research to the collective. You will develop core communication competencies in the process, meet like-minded people to collaborate with and come out with a huge dose of inspiration. You and everyone who listens to you speak will be better for it.
Source: Royal Society Te Apārangi
Seer Ikurior
Falling Walls Lab 2019 winner
I think of the Falling Walls Lab as a science gallery, displaying the power of science to solve 21st century problems, big and small.