News
Published 20 April 2020
Seer reflects on his journey to Falling Walls Lab Finale 2019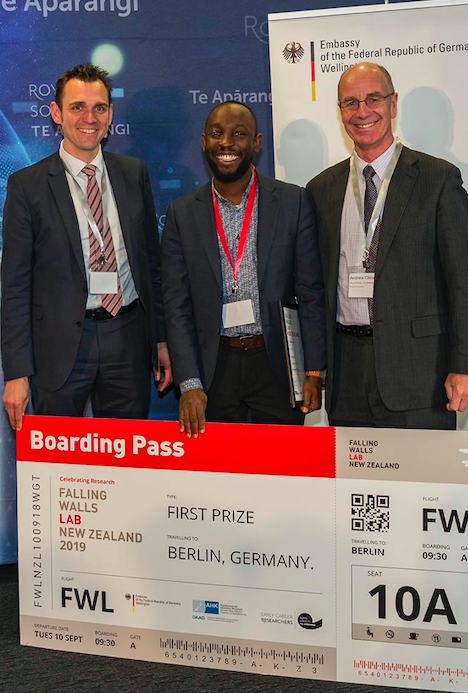 Seer Ikurior is a PhD candidate at Massey University in Wellington. He won the inaugural Falling Walls Lab New Zealand event in Wellington in September 2019 and a journey to represent New Zealand at the Falling Walls Lab Finale in Berlin.
Seer's Journey
The bus ride from Wellington to Palmerston North felt shorter than the three hours it actually took. It was September 10, 2019 and I was returning home from pitching my research to a great audience at Royal Society Te Apārangi in Wellington. I spent the entire bus trip recounting the day's Falling Walls Lab New Zealand event, recollecting all the inspiring three-minute pitches I had heard from 19 other presenters, and felt still largely unrecovered from being selected to represent New Zealand at the Falling Walls Lab in Berlin. I was thankful for the opportunity ahead of me to visit Berlin to present my work.
My research uses remote sensing technologies, such as GPS and activity sensors, to study behavioural movement and activity patterns in lambs to identify animals that have worm infections from those that do not. Worm infections are a major animal health problem for grazing lambs. Overuse of chemicals, called anthelmintic drugs, usually administered to all animals to control these worms, has led to an alarming rate of drug resistance development. Identifying and treating only infected animals will help preserve these drugs as well as reduce the chemical footprint on the environment. My work has taken the first steps towards developing a user-friendly decision support tool to assist farmers, advisors and veterinarians make targeted worm treatment decisions on individual lambs. This is what I was heading to Berlin to share.
Nothing prepared me for what would come in the weeks leading to my travel to Berlin. I was interviewed on a radio station, a local newspaper visited me in my lab for an extended interview and random people at parks and supermarkets called me "the worm guy". I attended a farmers advisory day and a participant handed me an article of myself that read "NZ's worm detective". It was a massively humbling experience.
On November 8, 2019, I made a two and a half minute presentation on my research to an audience attending/participating in the Falling Walls Lab Finale at the beautiful Futurium, Berlin. The atmosphere was electric; alongside me were 99 other innovators and researchers from around the globe who also presented their "wall breaking" research innovations. Afterwards, I had the honour to sit down for coffee with the New Zealand Ambassador to Germany, and chat about the impact of my work. The discussions were very practical and useful for how I think about the potential scope of my research. A second meeting organised by the New Zealand Embassy in Berlin, was a sit-down with the Director General of the German Sheep Farmers Association. The discussions from this meeting resulted in an invitation to revisit Berlin and present my work at a conference.
Outside the Falling Walls Lab and the two meetings cited above, it was exciting to experience Berlin at a time marking the 30th anniversary of the fall of the Wall. Visiting the Berlin Wall Memorial and Documentation Centre was a moving experience, a stark reminder of what was and hopefully what should never be. Aside this, I travelled through Berlin's vast rail network to some amazing sites, including the Reichstag, Potsdamer Platz, Checkpoint Charlie, Brandenburg Gate, the Berlin TV Tower and the Holocaust memorial.
When it was over, I transited through Sweden and that was the icing on the cake. Suffice to say this trip is fondly etched in my memory as the biggest adventure I have undertaken yet.
Source: Royal Society Te Apārangi