News
Published 20 April 2022
Muhammed's journey to the 2021 Falling Walls Lab Finale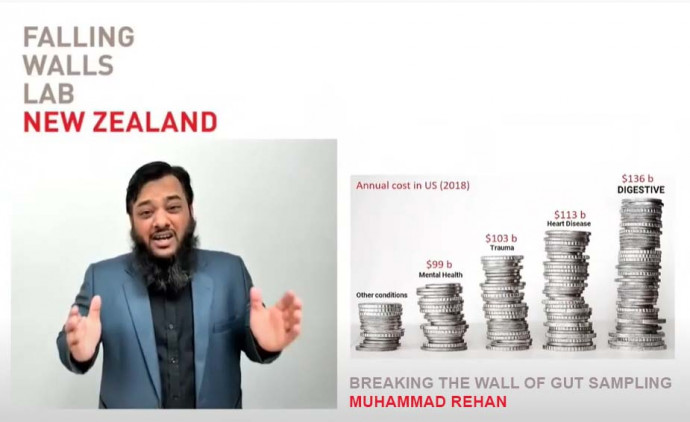 Muhammed Rehan is a PhD candidate at Massey University in Palmerston North. He won first prize and the People's Choice Award at the 2021 Falling Walls Lab New Zealand event in Wellington and went on to represent Aotearoa at the international finale.

We spoke with the 2021 Falling Walls Lab New Zealand representative about his journey.


For Muhammed Rehan, pursuing a PhD at Massey University's School of Food and Advanced Technology has always been about helping others.
"I thought, it shouldn't just be an additional milestone or a degree for myself. Rather, I wanted to help others by pushing the boundaries of my current research, to the best possible extent of my faculties. I knew I might not be able to transform the world with just a few years of effort, but I had an intention to contribute as much as possible."
In 2018, Rehan's supervisor showed him some papers on sampling microorganisms that live inside the gut, and he realised that this was a research field where he could make a significant contribution to people's lives.
Since then, Rehan has been hard at work researching, designing and prototyping a pill-sized, wireless, robotic capsule that can collect samples of microbiota and digestive fluid at targeted sites along the gastrointestinal tract.
In 2021, Rehan presented his groundbreaking innovation at Falling Walls Lab New Zealand.
Falling Walls Labs are national interdisciplinary pitch competitions held all over the world for students and early career professionals to showcase their solutions to some of the world's most pressing social and scientific problems. It was an ideal forum for Rehan to present his research, which "breaks down the wall" of gut sampling by making it cheaper and less invasive than traditional endoscopy with far more enlightening results.
The three-minute time limit on presentations is the central challenge of the Falling Walls Lab competition, but Rehan's comprehensive overview of the wide-ranging benefits, mechanics and future applications of his research made his talk a textbook success, winning both the Judges and People's Choice award at the New Zealand heat.
Rehan then went on to represent Aotearoa at the virtual Falling Walls Lab Finale, where he watched fellow finalists from all over the world share groundbreaking ideas and innovations. Though his attendance at the Finale was virtual due to border restrictions, Rehan describes the experience of hearing Nobel laureates and world-leading researchers impart their wisdom upon Falling Walls Lab participants as "overwhelming".
Thorough feedback and compelling commentary from judges, attendees and other participants were incredibly encouraging, pushing Rehan to dive deeper into some areas of his research and enhance his science communication skills.
"[As researchers] one of our duties is to share our scientific knowledge with the public," says Rehan. "Participation in Falling Walls allowed me to learn about the dos and don'ts of public communication, and the benefits of sharing our scientific knowledge."
Speaking to such a large audience also connected Rehan to resourceful global collaborators and triggered the interest of media platforms who wanted to share his story.
When asked if he had any advice for future participants in the Falling Walls Lab, Rehan strongly encourages people to get involved.
"Participation in this year's Lab competition will provide a platform to communicate and shape your idea into a better product in the future. So, don't just wait, come forward and see how this competition will transform you and your idea or research into a better version of itself. See you on stage! Good luck."
Source: Royal Society Te Apārangi