News
Published 28 March 2019
Falling Walls Lab: One minute with Ankita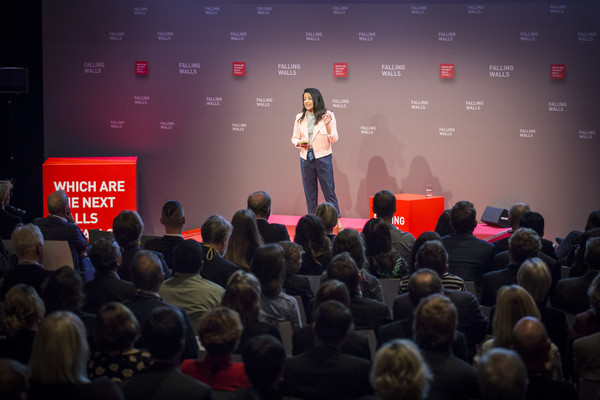 2018 Falling Walls Lab New Zealand representative Ankita Poudyal shares some valuable insight from her experience at Falling Walls Lab Finale, Berlin.
Ankita Poudyal is a PhD candidate at the School of Engineering, Computer and Mathematical Sciences at Auckland University of Technology (AUT). She is working on the design of filters to capture pollutants at AUT's Centre for Kode Technology Innovation (c4KTI). Her project is supported by a Callaghan Innovation R&D Fellowship grant and is a joint project between c4KTI, Kode Biotech Ltd and Revolution Fibres Ltd – a New Zealand business based in Auckland, which specialises in the development, production and marketing of nanofiber products.
Ankita won the inaugural Falling Walls Lab New Zealand event in Wellington in September 2018 and the opportunity to represent New Zealand at the Falling Walls Lab Finale in Berlin. At the Finale, Ankita placed third amongst 100 other young researcher and entrepreneur finalists from all over the world and additionally won an opportunity to pitch her project at the prestigious Falling Walls Conference.
What made you want to present at Falling Walls Lab?
When I was nearing towards the completion of my PhD, I had decided that I would try to explore every opportunity around me. I knew about Falling Walls from other AUT participants who competed in previous years. I also always found the idea of presenting under 3 minutes very thrilling, so Falling Walls was the perfect platform for me.
What was your experience at the Falling Walls Lab Finale, and at the conference like?
I have been very lucky to be the first person to represent New Zealand in the Finale. The whole experience has been surreal. There were 100 participants chosen from 77 labs all around the globe. To have even been a part of such a big event was a proud moment for me especially because I was representing not only myself but also New Zealand on a global scale. It was very competitive and the quality of research works that were presented was beyond my expectations. Therefore, to be placed third among such brilliant minds has been one of the most rewarding experiences of my life. The top three winners got the chance to present again along with distinguished speakers from the most reputed organisations in the world such as MIT, Harvard University, University of Cambridge, Max Planck Society and many more and it was nothing less than a dream come true for a young researcher like me.
Did participating in Falling Walls Lab have a lasting impact on your working life?
When I came back from Berlin, I came back with much more enthusiasm, motivation and passion towards my work. Through Falling Walls, I got a much larger view of how scientists and researchers can have a huge impact in our society and how they are acknowledged and appreciated for the hard work they put in. The conference was attended by over 700 people who were all doing amazing things in their own areas and to be able to communicate and network with that many people through one event was the biggest win for me.
What would your advice be to this year's Falling Walls Lab applicants?
All I can say is that Falling Walls Lab is one of the biggest international platforms that can provide you with the best exposure and opportunity to communicate your ideas. Even if you do not qualify for the Finale, being a part of the local Falling Walls itself is a great opportunity to showcase your talent, meet with other passionate researchers and just be inspired or inspire others. It is a competition where you do not lose, only win. Just take your chance!
You can read more about Ankita's research or watch her presentation at Falling Walls Lab Finale in the video below.
Royal Society Te Apārangi are seeking Applications for Falling Walls Lab 2019 until 7 June 2019.
BREAKING THE WALL OF INEFFICIENT FILTERS
Ankita is working on nano-fiber filters that efficiently remove particles and enable good flow with the help of surface coating technology. These two functions are mutually exclusive in conventional filters.
Source: Royal Society Te Apārangi
Ankita Poudyal
Falling Walls Lab New Zealand 2018 winner
Falling Walls Lab is a great opportunity to showcase your talent, meet with other passionate researchers and just be inspired or inspire others.