2020 Rutherford Medal: Why humanities are sciences and sciences are humanities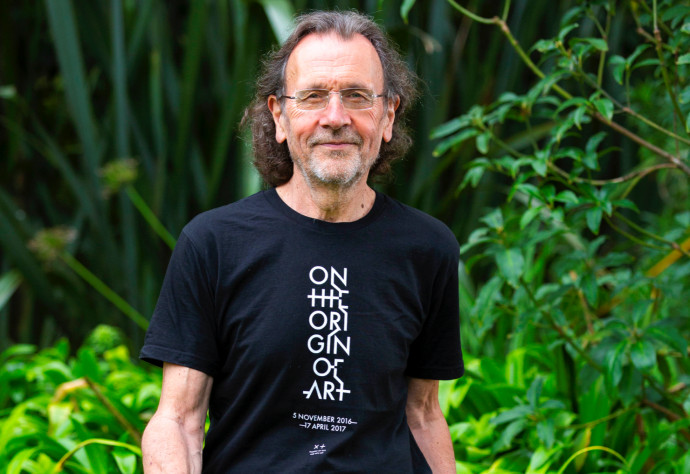 Distinguished Professor Brian Boyd FRSNZ has been awarded the Rutherford Medal by Royal Society Te Apārangi for his world-leading scholarship on literature. In particular he is recognised as an expert on the life and works of the great twentieth-century novelist Vladimir Nabokov. He is also recognised for his novel perspectives linking literature and the arts with evolutionary theory and exploring relations between the arts, humanities and sciences.

The Rutherford Medal is a prestigious award instituted by Royal Society Te Apārangi, at the request of the Government. Awarded annually, it recognises preeminent research, scholarship or innovation by a person or team. This year is the first year it embraces the humanities.
Brian Boyd, who has been called an "academic superstar" by the New York Times, has made an exceptional contribution to literary studies, humanities and social and natural sciences, both as a detailed specialist and by developing new and influential perspectives with influence far beyond literature.
Since the 1980s the public and generations of scholars have acknowledged him as the world authority on the leading twentieth-century Russian-American writer Vladimir Nabokov, acclaimed as "the last of the great novelists." Brian has changed the way Nabokov's ideas and techniques are understood; his two-volume critical life of Nabokov was called "a masterpiece" and "the greatest literary biography ever written". It won awards in Australasia, North America, Europe, and Asia, and was hailed by Nobel Literature laureate Orhan Pamuk. He has written radically new but widely accepted interpretations of Nabokov's most difficult novels, and has edited for the first time his scientific writings (Nabokov's Butterflies, 1999), his verse translations, his letters to his wife, and his essays, reviews, and interviews.
He has raised and answered a fundamental question: why we are a storytelling and art-making species? His 2009 book On the Origin of Stories, which ranges from the Paleolithic to the present, has been acclaimed "the most important reorientation" of literary studies since Northrop Frye's 1957 Anatomy of Criticism. It argues that storytelling has given humans an evolutionary advantage and provides a new framework for studying the arts informed by evolutionary theory. It generated invitations and collaborations from artists, business, government, and museums, from anthropologists, economists, linguists, microbiologists, philosophers, and psychologists, from mathematicians at Harvard to neuroscientists at the Collège de France.
Brian has also linked the arts and the humanities with the social and natural sciences and endeavoured to account for human purpose. He champions scientific theories and methods applied to the arts and combats scientific reductionism. In 2012 he was awarded a Marsden Fund grant to support his ongoing work writing on philosopher of science Karl Popper.
Brian has also been highly praised for work on other literatures: American, Brazilian, English, Greek, Irish, New Zealand, Polish, Russian, and Turkish, from epics to comics and from Homer and Shakespeare to the present. His work has appeared in twenty languages, from Arabic to Turkish.
On receiving the Rutherford Medal, Brian said:
"I am thrilled that from this year the humanities have been included within the scope of the Rutherford Medal, so that all forms of research—other than the creative arts, which appeal directly to the public—can come under the bright Rutherford spotlight.
"Actually, I think that the sciences are humanities (no other species on earth engages in science, and no science happens without language, culture, and traditions, including traditions of challenging traditions) and the humanities are sciences (attempts at deeper explanation, challenging received knowledge, and testing hypotheses against evidence should drive the humanities too).
"As a humanist, you can choose to explore what humans have done wrong, and continue to do wrong, and there's no shortage of examples; but I prefer to show how some humans have extended the possibilities for us all, in art or in thought. If we aren't inspired by what humans at their best can do, we might despair of what humans at their worst can do.
"I especially like to work on people who cross the boundaries of the arts, the humanities and the sciences: Vladimir Nabokov was a world-class writer and a word-class scientist (lepidopterist), Karl Popper a world-class philosopher, who worked and argued with scientists like Einstein, Bohr, Heisenberg, Schrödinger, Medawar, Lorenz, Monod, and many more, and composed music that has been recorded and praised by, for instance, world-leading organist, New Zealander Dame Gillian Weir.
"Nabokov and Popper were contemporaries, both living through most of the twentieth century and both uprooted by war and revolution. In many ways, nevertheless, they were antithetical, but what for me links them is their love of freedom and their delight in the endless adventure of discovery." Read acceptance speech in full.
Brian is Distinguished Professor of English Literature at the University of Auckland. He is one of New Zealand's most visible public intellectuals, contributing many interviews, articles and reviews to radio, print journalism, writers' festivals, leading journals and magazines. His contribution also extends to community groups and continuing education. Brian contributes significantly to his university's outreach work, and to New Zealand's wider academic community and he has also been a key contributor to organisations, journal boards, institutions and individuals in many fields in America, Australasia, Europe and Asia. In 2018, the International Vladimir Nabokov Society announced a biannual Brian Boyd Prize in his honour. In 2014 he received the Humanities Aronui Medal from Royal Society Te Apārangi and was made a Fellow of the Society in 2009. He was awarded a James Cook Fellowship (1997‐1999) and a Claude McCarthy Fellowship (1981‐82).
Rutherford Medal:
The Rutherford Medal is a prestigious award instituted by Royal Society Te Apārangi, at the request of the Government. Awarded annually, it recognises preeminent research, scholarship or innovation by a person or team in any field of engineering, humanities, mathematics, sciences, social science, or technology.
Citation:
To Brian Boyd for world-leading research on literature, the arts and the humanities, especially on the great twentieth-century novelist Vladimir Nabokov, on literature, art, and evolutionary theory, and on relations between the arts, humanities, and sciences.