2020 Tahunui-a-Rangi award: woven wahakura for safe sleeping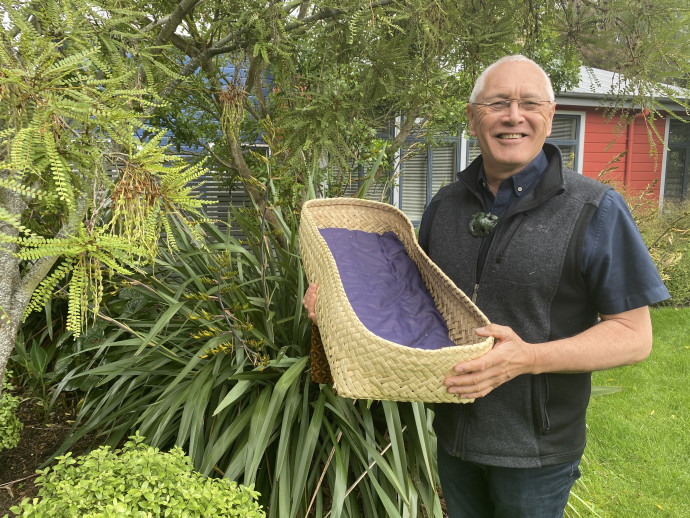 Professor David Tipene-Leach MNZM (Ngāti Kahungunu/Ngāti Kere, Ngāti Manuhiri) has been presented the inaugural Tahunui-a-Rangi award by Royal Society Te Apārangi for the wahakura, a simple flax, bassinet-like device that creates as a safer sleep environment for the prevention of SUDI (Sudden Unexpected Death in Infancy).

The Tahunui-a-Rangi award for invention and creation is being awarded for the first time this year, with the support of Callaghan Innovation.
The wahakura is credited with beginning a programme that dropped infant mortality by nearly a third and is changing the infant care behaviour of a nation. The wahakura was designed for Māori infants—aimed at the persistent six-fold SUDI disparity which occurs due to the interaction between smoking in pregnancy and infant bedsharing (a usual Māori infant care practice). Found together, these increase individual infant SUDI risk up to thirty-fold. World-wide efforts in SUDI prevention have centred on eliminating bedsharing – widely valued in Indigenous communities.
The ingenuity of the wahakura is two-fold. Firstly, it mitigates SUDI risk by creating a safe sleeping environment in a shared bed and secondly, it uses mātauranga Māori and the special appeal of flax and weaving to market this 'easy-to-use-by-any-caregiver' intervention to a population not accustomed to easy health interventions.
The wahakura has become a normal part of the Māori pregnancy now and an increasingly common part of a Māori weavers repertoire. After the 29% drop in infant mortality in the 5 year period after 2009, the Ministry of Health began a national roll out of the Safe Sleep programme and District Health Boards now participate in the Safe Sleep programme. Furthermore, the wahakura has become popular across cultural groups with non-Māori Mums increasingly wanting to use them. Weavers now market these items online and send scores of wahakura to Australia as Māori and other Mums take up the opportunity to be 'safe sleepers'. Finally, safe sleep devices are now being systematically deployed in some Aboriginal communities in Brisbane, Australia and wahakura have been sent to University of Bristol where research teams are exploring how a Māori New Zealand invention might help solve the SUDI problems in deprived English homes.
On receiving the Tahunui-a-Rangi award, David said:
"Te Tahunui-a-Rangi is a fleeting flash of colour and light - a glimpse of beauty, mystery and discovery. So is the ingenuity of the wahakura. Its ingeniousness is in using tikanga Māori to mitigate SUDI risk by the creation of a safer sleep environment. It has become a normal part of the Māori pregnancy now and an increasingly common part of a Māori weavers repertoire and is fast becoming a 'must-have' for the Kiwi Mum".
"I am personally grateful to have been involved with a myriad of health workers and weavers in three iterations of sudden infant death prevention. The Māori SIDS Prevention Programme took 'control of the message' in the 90s, the wahakura programme took 'control of the intervention' in the 2000s and a clinic where Mums learn to weave all the accoutrements of pregnancy will 'take control of the antenatal space' in the next few years ahead of us."
David is Professor of Māori and Indigenous Research at the Eastern Institute of Technology in Hawke's Bay. Trained as a medical doctor, in addition to his work as a medical researcher, he has spent many years as a public health physician and in general practice serving Māori communities. He has led all aspects of the wahakura, apart from the weaving, advising on its safe use and gathering research evidence on its safety and effectiveness.
In 2004 he was made a Fellow the Royal New Zealand College of General Practitioners, and gained Distinguished status in 2016. He was also made an Honorary Fellow of the New Zealand College of Public Health Medicine in 2015 and a full Fellowship followed in 2017. In 2017 he was made a Member of the New Zealand Order of Merit for services to Māori and health.
Tahunui-a-Rangi award:
Tahunui-a-Rangi is awarded biannually to a person or team who, while in New Zealand, has invented or created a unique and ingenious structure, device, product, design, system, process, service or artefact(s) which is significant in its economic, cultural, social or environmental impact.
Citation:
To David Tipene-Leach for the application of mātauranga Māori to Sudden Unexpected Death in Infancy through the development of the wahakura, an ingenious flax sleeping bassinet-like device.