Research
Published 4 October 2017
Can action sports help make a better world?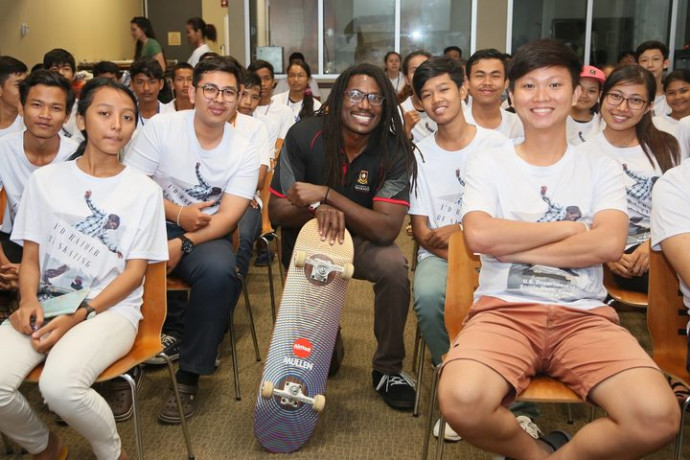 Neftalie Williams with students
Skateboarding, surfing and other action sports are starting to play a role in social development, community building and even peacemaking around the world.
Originally published on Nine To Noon, 9:20 am on 27 September 2017
Waikato University Associate Professor Holly Thorpe has been researching skateboarders in Afghanistan, parkour (free running) athletes in Gaza and how action sports have helped rebuild resilience and community in Christchurch and New Orleans.
Through the sport of parkour, young men in Gaza have found an outlet, a space for expression and even a form of peaceful political protest, Prof Thorpe says.
They have learnt parkour through YouTube videos, she says.
"They're running off buildings, off sand dunes, learning to flip and tumble and roll.
"They're using these spaces to contest that these are their spaces, for play, for performance."
The men can't travel, but are able to connect with the worldwide parkour community via online videos.
"They are opening up these spaces of conversation where they feel support from a global community.
"We assume that young people in these spaces are victims, are needing our versions of support. What I'm seeing are some really creative, resourceful approaches they're using themselves to try to create change and improve their lives and [others lives]."
The inclusive global culture of skateboarding makes it a powerful tool for diplomacy, PhD student and skating ambassador Neftalie Williams says.
The diverse community of skateboarding is what first drew Williams to the sport.
"I saw that it didn't matter how much money you had or where you came from, everyone was skateboarding together."
The global ethos of skateboarding is that skaters support each other, explore spaces together and have fun together.
Generally, the skating community is open to diverse groups coming in and adding to the fabric of their culture, so in this way it can be a powerful tool for diplomacy, he says.
"It doesn't matter where we're at in the world you'll see that bond between all skateboarders."
Skateboarding can give young people a "new set of eyes" to see possibility in their environment, he says.
"We want to get [young people] thinking about how they could re-imagine that energy in academia … There's levels of art and entrepreneurship deeply embedded in skateboarding culture.
"[We're trying to show] those kids how that can be a pathway to higher education or starting your own business… It's a multi-prong message that skateboarding as a whole can be something to help kids re-imagine all the spaces around them, not just the physical."
More than 200 organisations around the world are now using action sports for social development and peace-building, Thorpe says.
She's set up a website she hopes will bring the community together to share knowledge and resources.
Additional information: Listen to Holly Thorpe and Neftalie Williams on Nine to Noon
RESEARCHER
Associate Professor Holly Thorpe
ORGANISATION
University of Waikato
FUNDING SUPPORT
Marsden Fund
CONTRACT OR PROJECT ID
UOW1504
---