Research
Published 11 July 2023
Secret History: State Surveillance in New Zealand, 1900–1956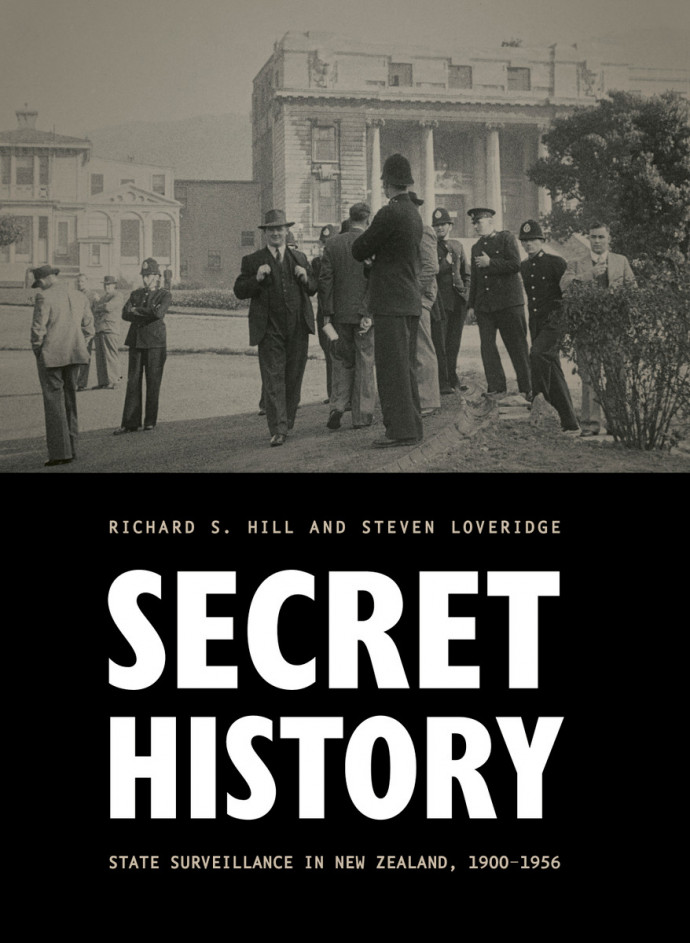 Secret History: State Surveillance in New Zealand, 1900–1956, published by Auckland University Press
The first volume in a history of spies and spying in New Zealand.
In 1900, a handful of New Zealand police detectives watched out for spies, seditionists and others who might pose a threat to state and society. The Police Force remained the primary instrument of such human intelligence in New Zealand until 1956 when, a decade into the Cold War, a dedicated Security Service was created. Over the same period, New Zealand's role within signals intelligence networks evolved from the Imperial Wireless Chain to the UKUSA intelligence alliance (now known as Five Eyes).
The first of two volumes chronicling the history of state surveillance in New Zealand, Secret History opens up the 'secret world' of security intelligence through to 1956. It is the story of the surveillers who – in times of war and peace, turmoil and tranquillity – monitored and analysed perceived threats to national interests. It is also the story of the surveilled: those whose association with organisations and movements led to their public and private lives being documented in secret files.
Secret History explores a hidden and intriguing dimension of New Zealand history, one which sits uneasily with cherished national notions of an exceptionally fair and open society.
Authors
Richard S. Hill is the author of four books on the history of policing in New Zealand and two on Crown–Māori relations in the twentieth century (including State Authority, Indigenous Autonomy and Maori and the State, Victoria University Press, 2004, 2009). He has also written numerous articles, book chapters and papers, and has edited books and academic series. His research interests have focused on the interactions between the state and its subjects in New Zealand and empire. He is a Life Member of Clare Hall, Cambridge University, and Emeritus Professor at the Stout Research Centre for New Zealand Studies at Victoria University of Wellington/Te Herenga Waka.
Steven Loveridge is a historian whose research focuses on governance, security intelligence and war and society. The author of several books, he has been published in various scholarly journals and anthologies. His recent publications include the co-authored The Home Front (Massey University Press, 2019), an authoritative examination of New Zealand's social, political, economic and diplomatic experiences in the First World War, and content within New Zealand's Foreign Service (Massey University Press, 2022) and Histories of Hate (Otago University Press, 2023). He is a research fellow with the Security and Surveillance Project at the Stout Research Centre for New Zealand Studies at Victoria University of Wellington/Te Herenga Waka.
Endorsements
'Hill and Loveridge give us a fascinating examination of the underbelly of the New Zealand state, always alert to the tension between our assumptions of a tolerant society and the realities of "political policing". . . . Co-author Richard Hill is an established master of the art.'
— James Belich, Beit Professor of Imperial and Commonwealth History, University of Oxford
'Fascinating revelations about both New Zealand's secret history and the origins of today's most important international intelligence alliance.'
— Professor Christopher Andrew, Cambridge University, author of The Secret World
'This is an important work and a must-read for those seeking to understand the complex and contradictory nature of the New Zealand state. It is based on a wealth of previously unexplored archives, most notably the Old Police Records transferred to the NZSIS in 1956. Secret History is destined to become a much-consulted, go-to book in its field.'
— Professor Kerry Taylor, Head of Humanities, Massey University
'This thoroughly researched and well-written volume presents a vibrant account of New Zealand's domestic security and intelligence apparatus in the first half of the twentieth century. The authors provide an overview of state surveillance by the New Zealand Police and cognate agencies which is unlikely to be matched until archival transparency prevails. The first of a projected two-volume work, this is a valuable addition to the international literature of the specific national components of the Five Eyes alliance and covers both humint and sigint. It will allow for new and important comparative research on the participation of the junior partners (Australia, Canada and New Zealand) in the security and intelligence functions of the British and American imperial projects. It should also lead to vigorous domestic debates about the protection of civil liberties and the need for full access to government sources to enable reasonable assessments of the past behaviours of the surveillance state.'
— Professor Gregory S. Kealey, author of Spying on Canadians and co-author of Secret Service
Additional information: Auckland University Press
RESEARCHER
Richard S. Hill and Steven Loveridge
ORGANISATION
Victoria University of Wellington - Te Herenga Waka
FUNDING SUPPORT
Marsden Fund
CONTRACT OR PROJECT ID
VUW1413
---